All Things Pleasant on the Lake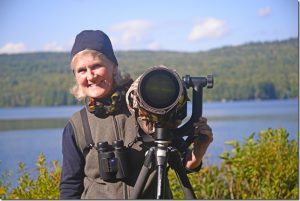 It is with extraordinary sadness that I must tell you
that Kittie Wilson, Our Precious Loon Lady, who had
and an incredible zest for life passed away May 3.  Kittie
really enjoyed doing the weekly "All Things Pleasant".
What started out as a communication among a few friends
on the Lake, turned into a weekly column about nature
and what is good in the world eventually reaching
thousands all over the world.  She loved getting your
feedback, both my email and in person.  I had thirty
unbelievable years of marital bliss with her.
There will be a memorial service followed by a
Grand Reception, May 18.  I hope that those of you
who don't live in the UK or South Africa or some other
far flung place might be
able join us at this upbeat event.
Sincerely,
Kittie's beloved husband, John Wilson
Kittie Wilson, Our Precious Loon Lady
Kittie Wilson, Our Precious Loon Lady, died on May 3, with her loving husband by her side after putting up a very vigorous fight against a very aggressive cancer.  A memorial service to celebrate Kittie's zest for the world of nature and her exceptional ability to convey that to others will be held at the First Baptist Church in New London, Friday, May 18 at 2:00PM.  A grand reception will be held following the service at The Lake Sunapee Country Club.
Kittie was born July 7, 1949 in Bangor Maine to Patricia Duncan Moore and William Burnett Moore.  She lived most of her life in New Hampshire.  After graduating from Epsom High School, Kittie attended Plymouth State University where she received a Bachelor's Degree in Elementary Education and also her Master's Degree in Education.  She also received a teaching certificate for advanced studies in Gifted and Talented Education from the University of Connecticut.
Kittie spent her entire career of 31 years in the Kearsarge Regional School District, where she taught the third grade for fifteen years and then developed the well-known and respected Mindstretch Program which she taught in all of the district's elementary schools for the next 16 years.  In 1993, she received the Krista McAullife Award as the State's best teacher which included a year's sabbatical, a time which she used to teach and demonstrate the Mindstretch program at 85 different schools throughout the state.
Kittie had a passion for the outdoors and all things in nature.  In retirement she worked very hard to maintain the quality and neighborliness of Pleasant Lake.  This lead to her passion for protecting loons, a threatened species in New Hampshire.  She became an avid and very talented photographer of nature, but particularly of loon and loon behavior.  She received the Loon Preservation Committee's Spirit of the Loon Award and the EPA's Meritorious Lifetime Achievement Award for all of her endeavors to protect loons.  She was a noted speaker about loon behavior throughout the state.
Kittie is survived by her loving husband John of 29 years, her brother Michael Moore and his family, her sister Karen Johnson and her family, her step-son Jeb Wilson and Aberfeldy and Macallan,
 Memorial contributions can be made to the Loon Preservation Committee, PO Box 604, Moultonborough, NH 03254, but Kittie also loved flowers.  There never were too many.