Kicking off 2020 Loon Season!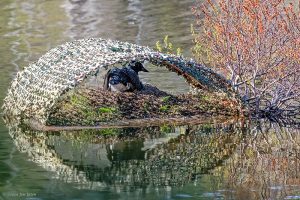 Spring is here, the loons are back, and so are Jen and Jon. Welcome to another summer of news about the nature of Pleasant Lake.
We start the loon pair's 14th season at the nesting raft designed, built and tended by John Wilson. Above you can see the male on nest duty. Yes, that means he has something to sit on!
Spring is in full bloom here as signaled by the evening toad and frog choruses and the earliest wild flowers. Two "roses" are early favorites among the trees…
We are fortunate to live in an area of New Hampshire that provides a parade of wildflowers well into the summer.
Of course early spring also brings it share of problems. For the loons and us, black flies are a seasonal nuisance. There are 40 species of black flies in New Hampshire, and we are bothered by around 4 of them (UNH Extension Fact Sheet). Black flies breed in clean, fast flowing streams like Great Brook. Thus, Turtle Cove is an ideal place to find them.
Loons are tormented by their own species of Black Fly (Simulium annulus). This Black Fly can be so intense it sometimes causes loons to abandon a nest. Sadly, a warm spring like we are having this year exacerbates the problem. Our loons are already being affected and spending time off of the nest. We can only hope for a short Black Fly season!
There have been both adult and immature Bald Eagles on the lake recently. Eagles harass the adults and are a danger to the chicks. So far it has been a rough start for our loon parents.
We will, of course, keep you posted on the loon family as well as other things going on with the plants and animals around Pleasant Lake.
Heading into a busy weekend for the Lake, we ask that you try not to bother these two tired, black fly laden loons too much when you see them on the water.