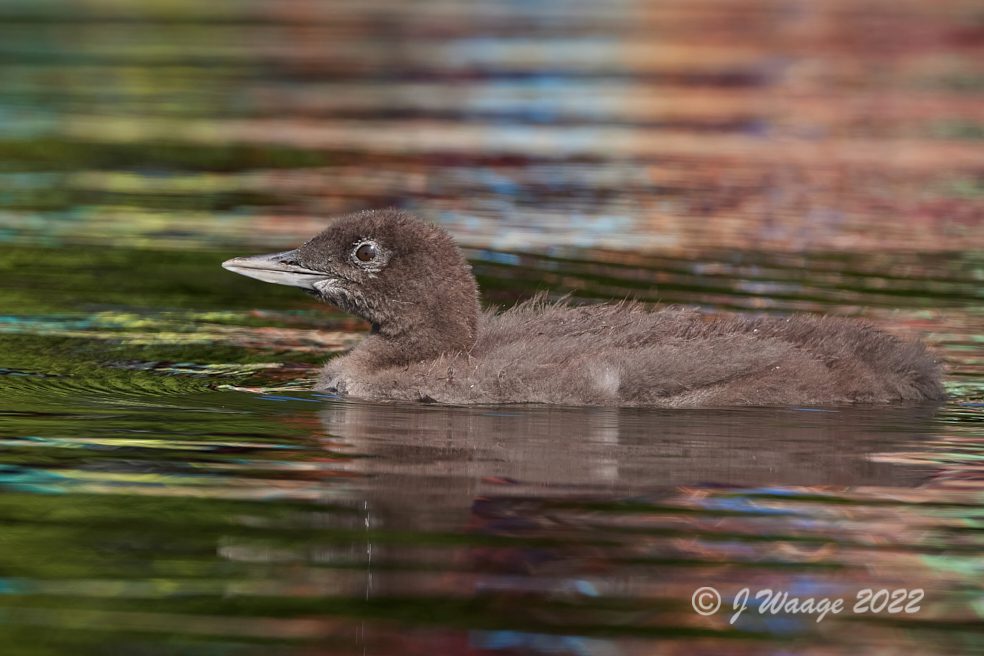 Update on the Loons
On a steady diet of crayfish, fish, and occasional plant material, Prosper continues to grow. Prosper has also started diving, staying down for half a minute or more.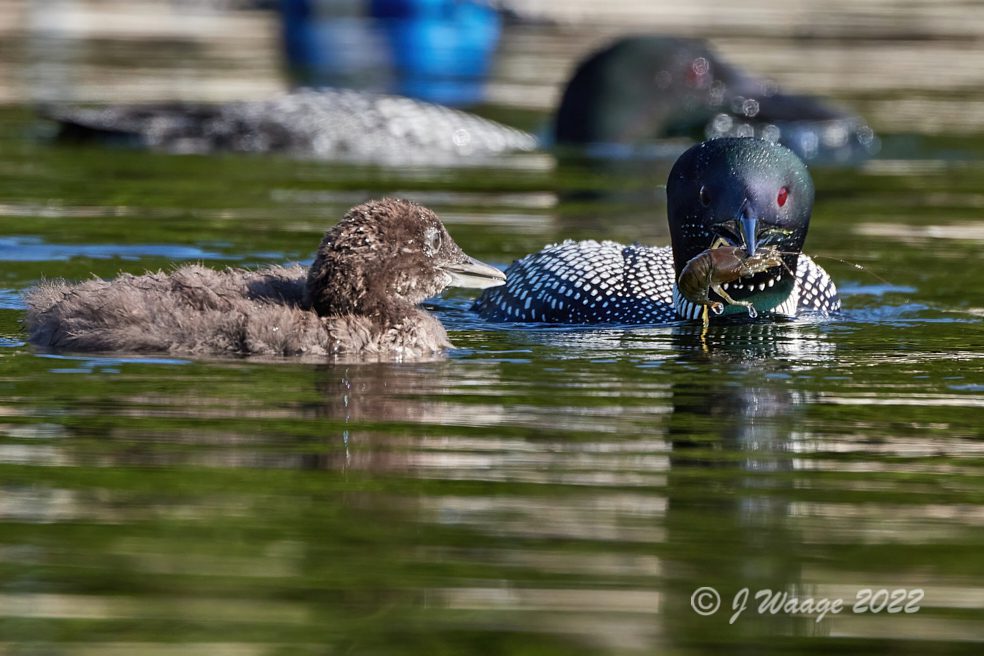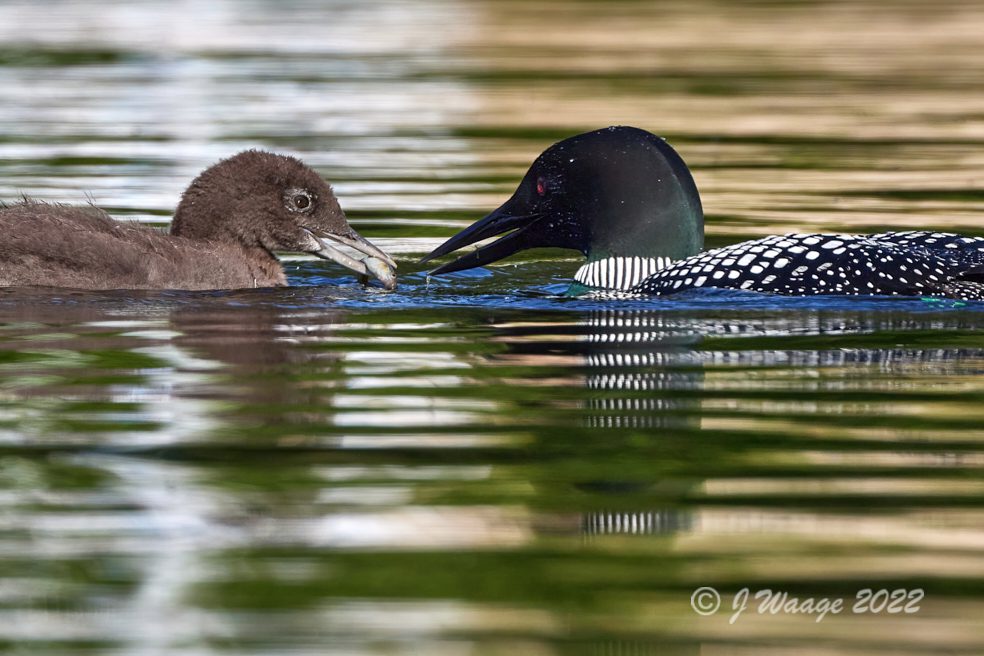 Despite being capable of diving, the chick still depends on its parents for food. As you can see below, Prosper is getting a lot!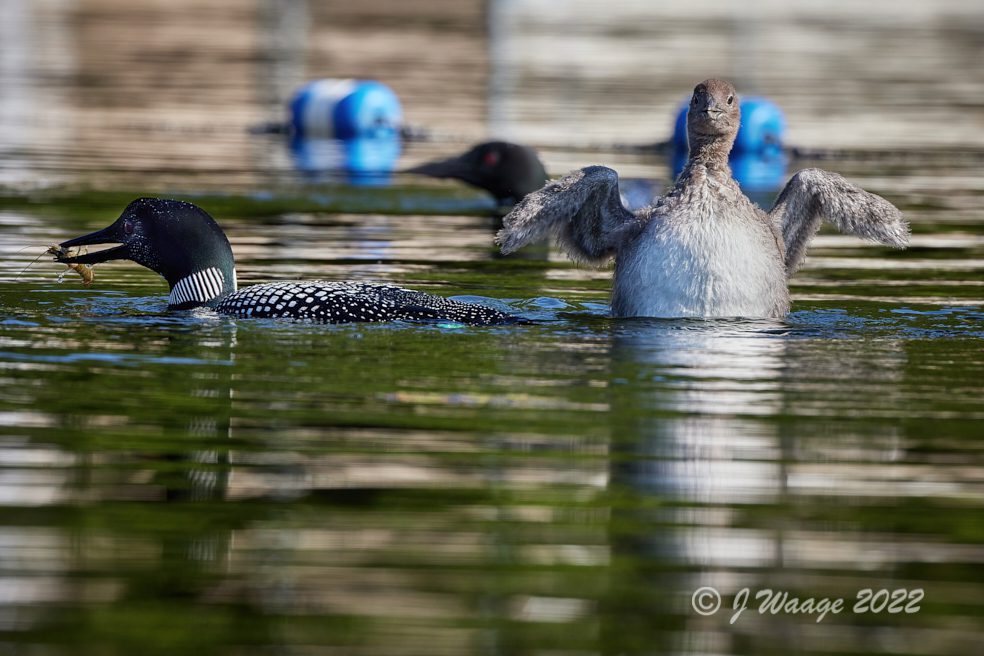 The photos above were taken Sunday morning (July 10). Last Thursday I was checking on the Loons when I noticed three of them swimming together. From left to right: intruder, our female and our male. Notice the heads held high and the head shape.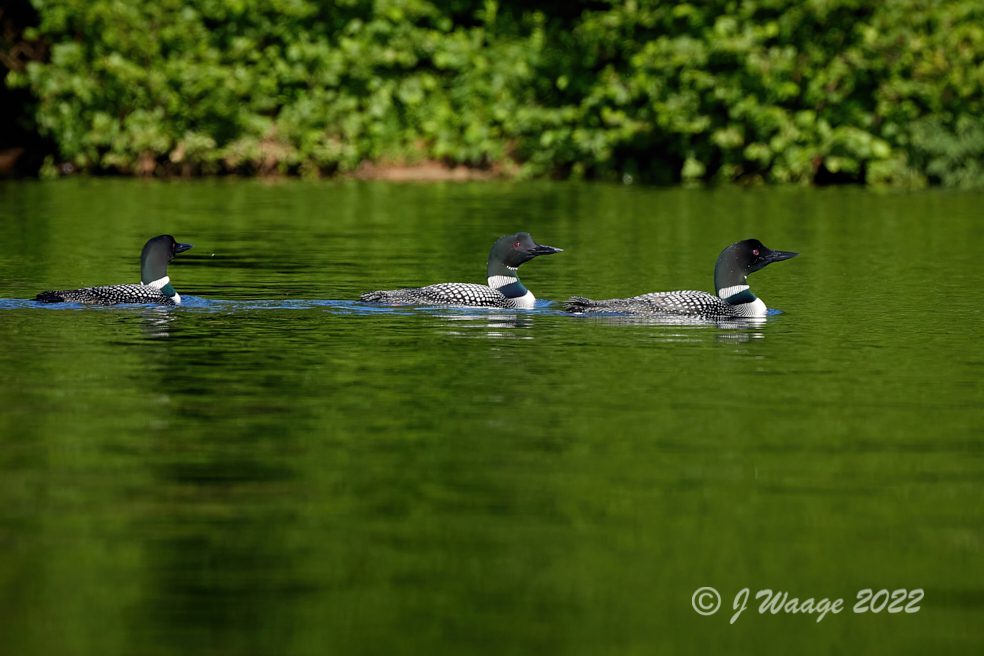 When Loons are stressed they raise their head feathers, resulting in a high forehead as can be seen in the photo of the female below. This was not a casual get together. No fighting occurred, but our pair escorted the intruder slowly to the other end of the Lake. That posture and head shape is a signal we should all pay attention to since it is one way to tell if we are too close and making a Loon uncomfortable.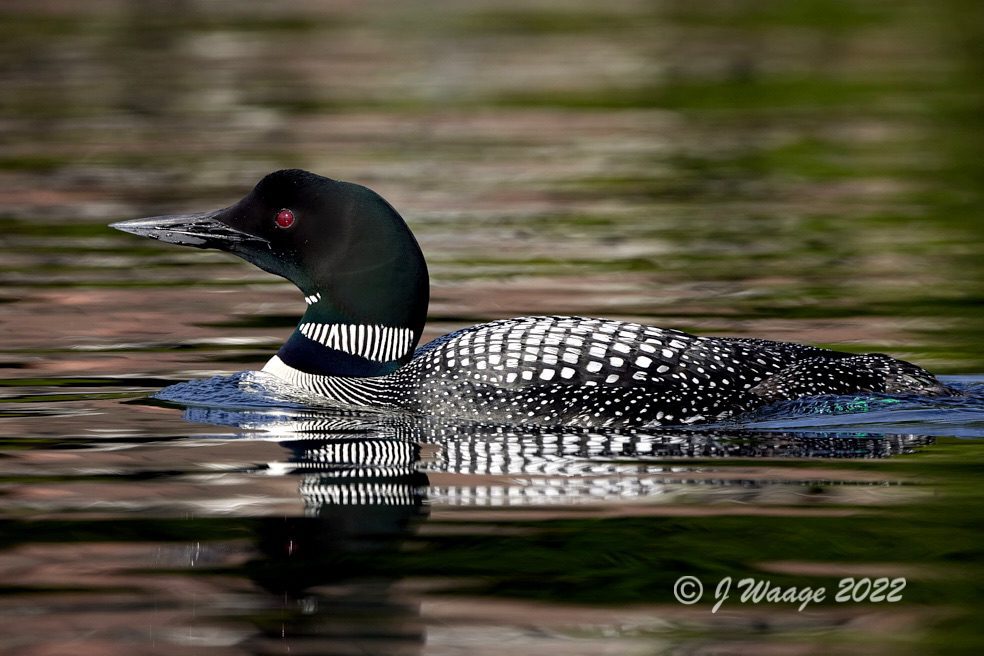 The parents had left Prosper somewhere close to shore while they confronted the intruder. I found the chick floating flat on the water near a docked boat. Parents somehow "instruct" the chick to stay this way while they are gone. A watchful neighbor said the chick had been there for almost an hour. This is another Loon posture to pay attention to. It makes a chick very hard to see. This time of year boats going fast near shore have a greater risk of hitting a "hiding" Loon chick.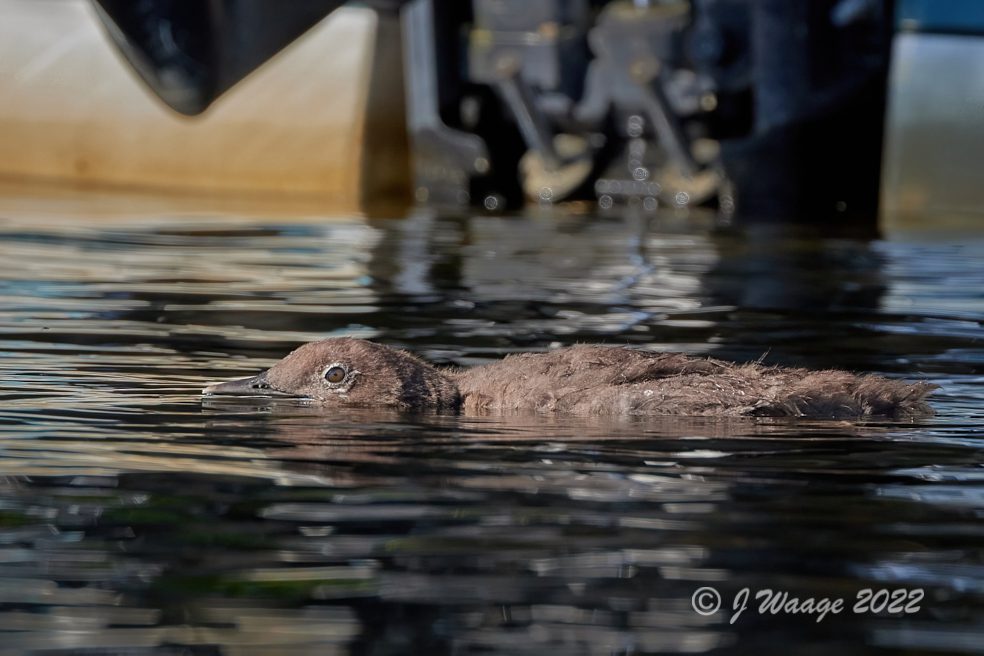 The chick stayed that way until its parents returned. The first thing Prosper did was to try and climb on Dad's back, sinking him!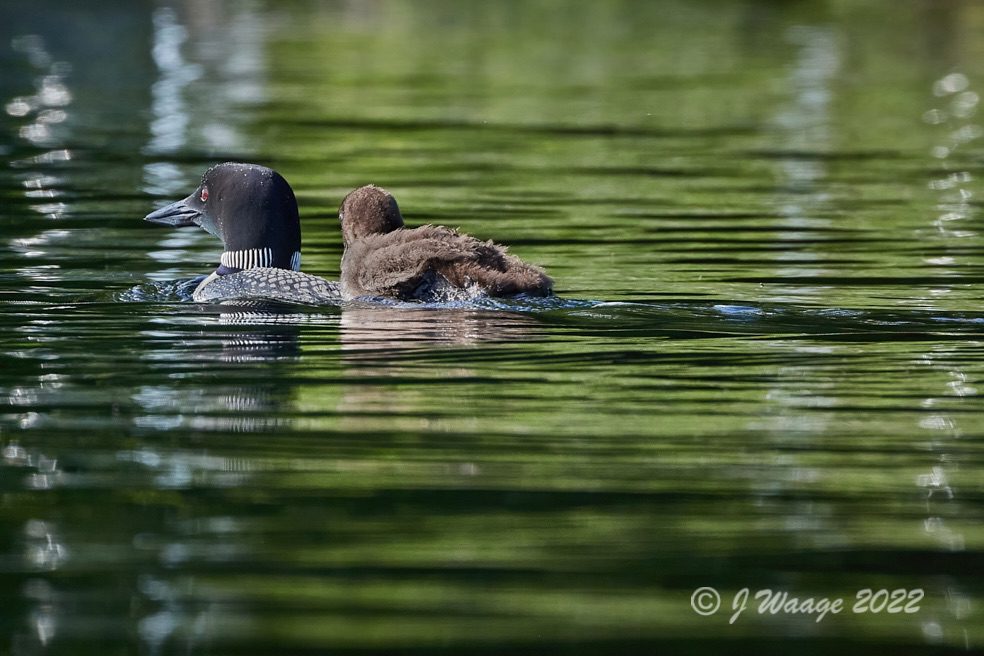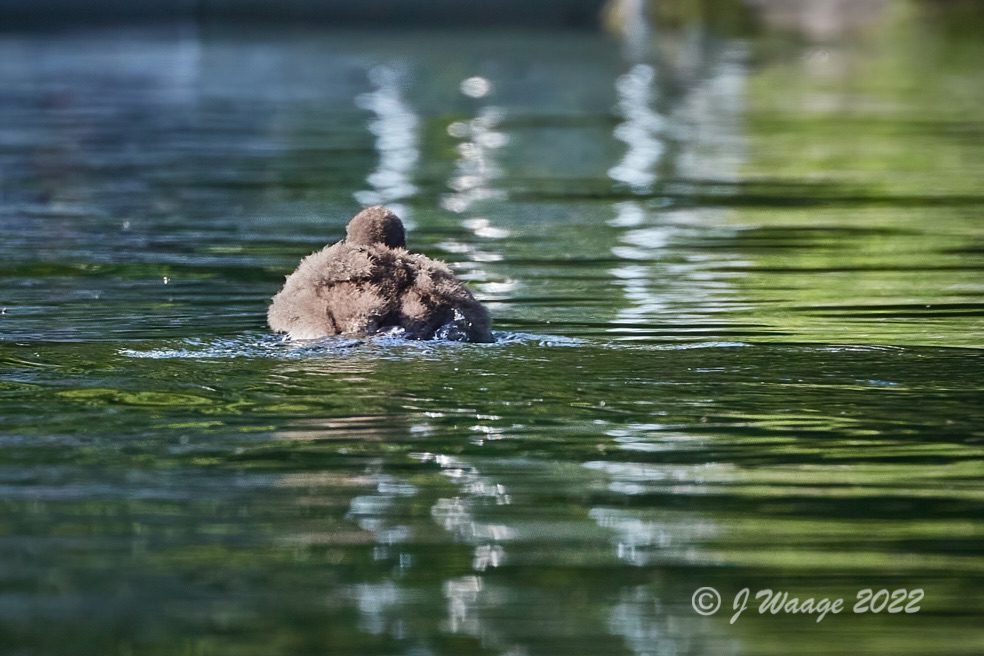 With the parents still watching for the intruder, they all spent some time together before the parents began to find food for Prosper.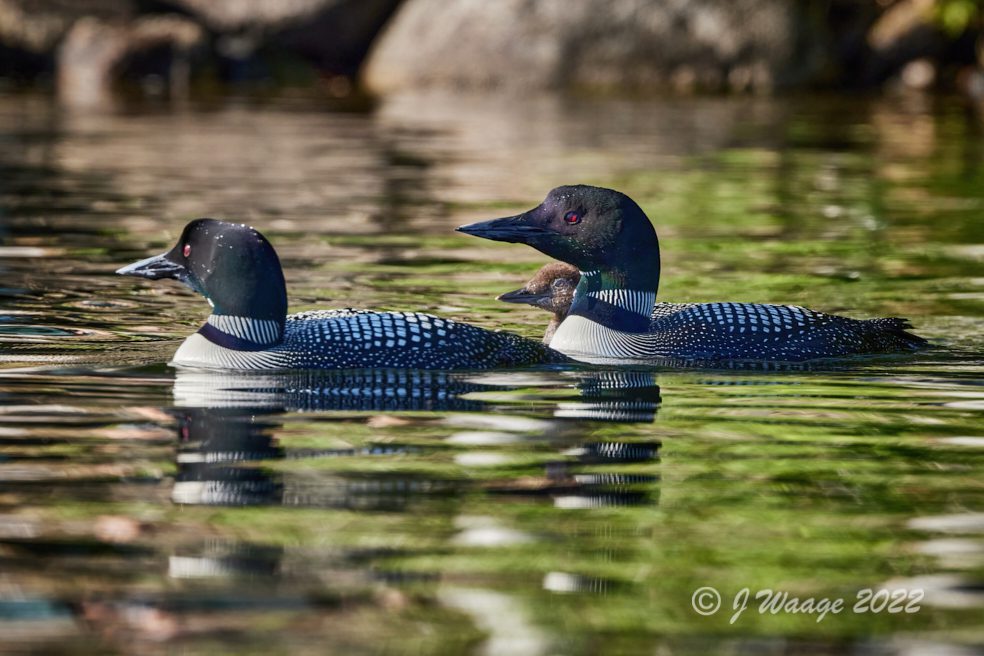 After that long period of lying low, Prosper did a lot of preening and stretching.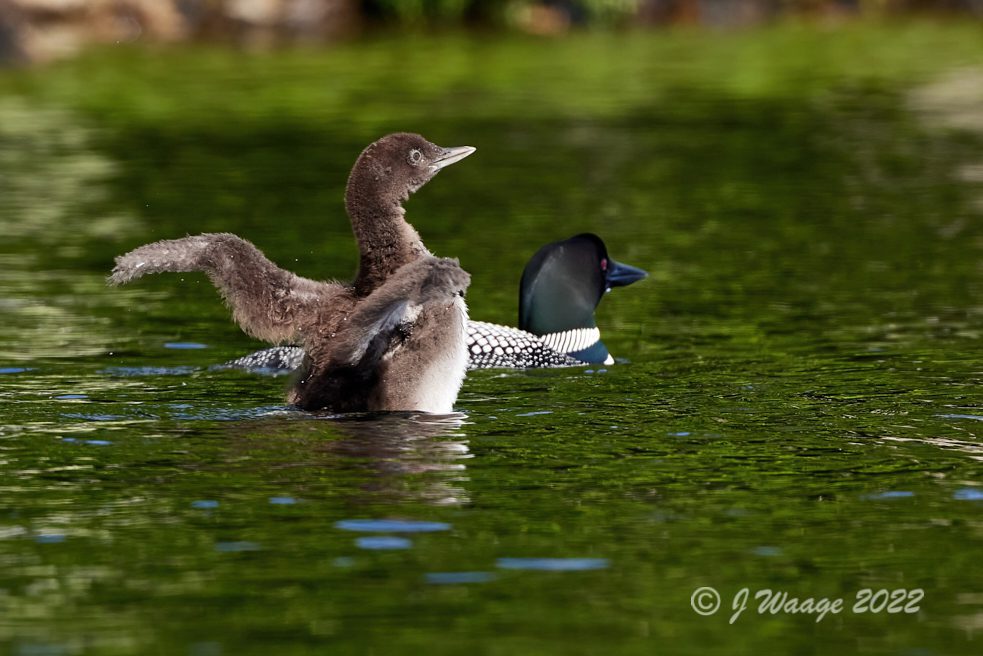 Below, you can see the more rounded "relaxed" headshape and posture of the parents as they brought Prosper food.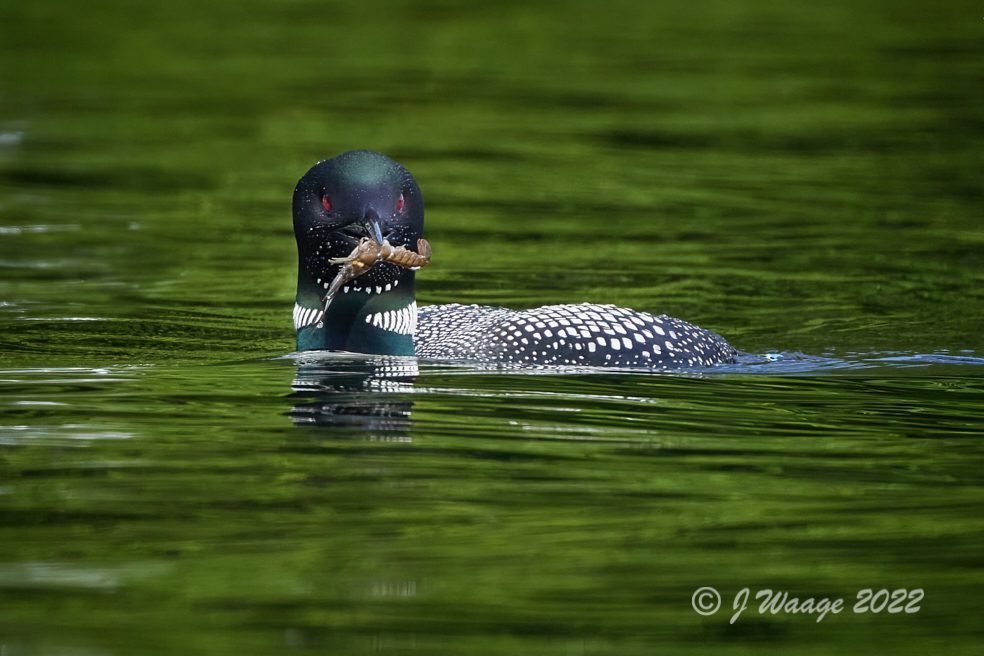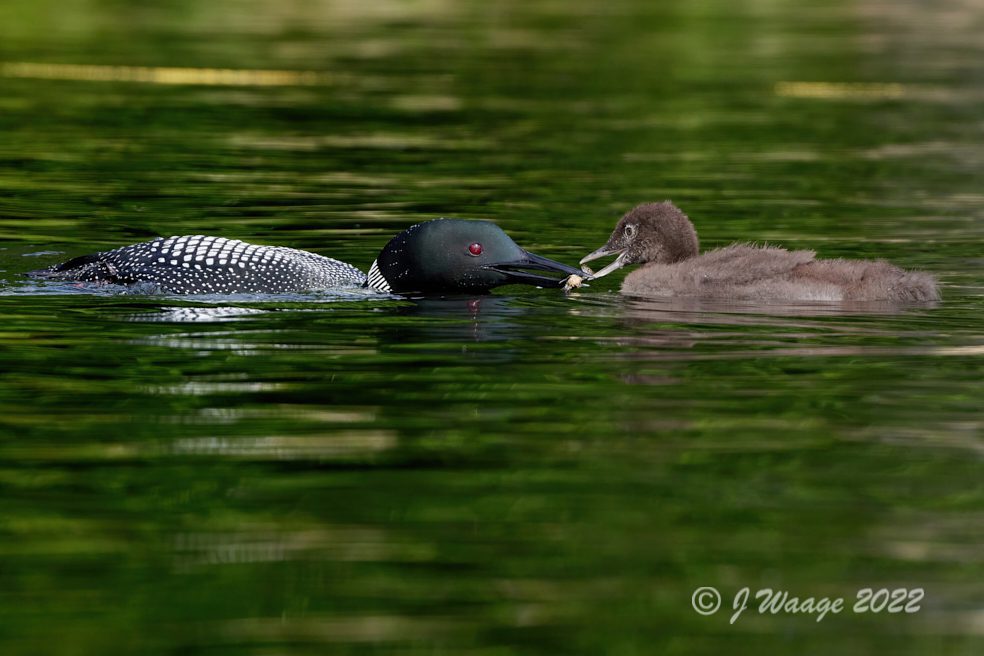 What a privilege it is to watch these amazing parents and their chick deal with everyday life!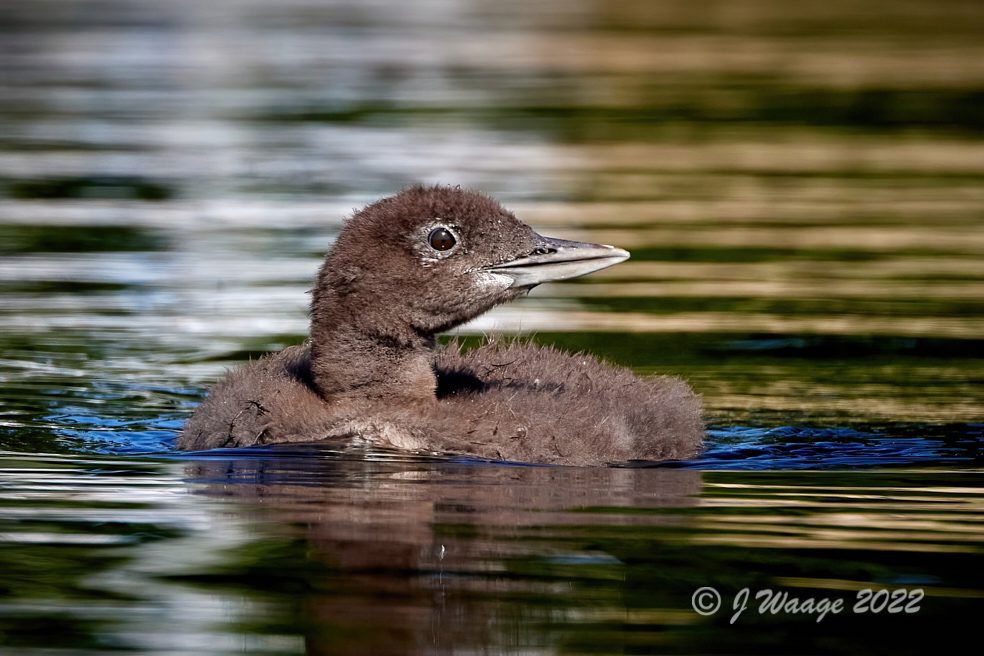 Backyard Butterflies
It has been a slow start to summer, but more and more pollinators and flower visitors are becoming active. Our backyard, full of native flowers, has finally come to life. The Skippers and Fritillaries below are sipping nectar from a milkweed.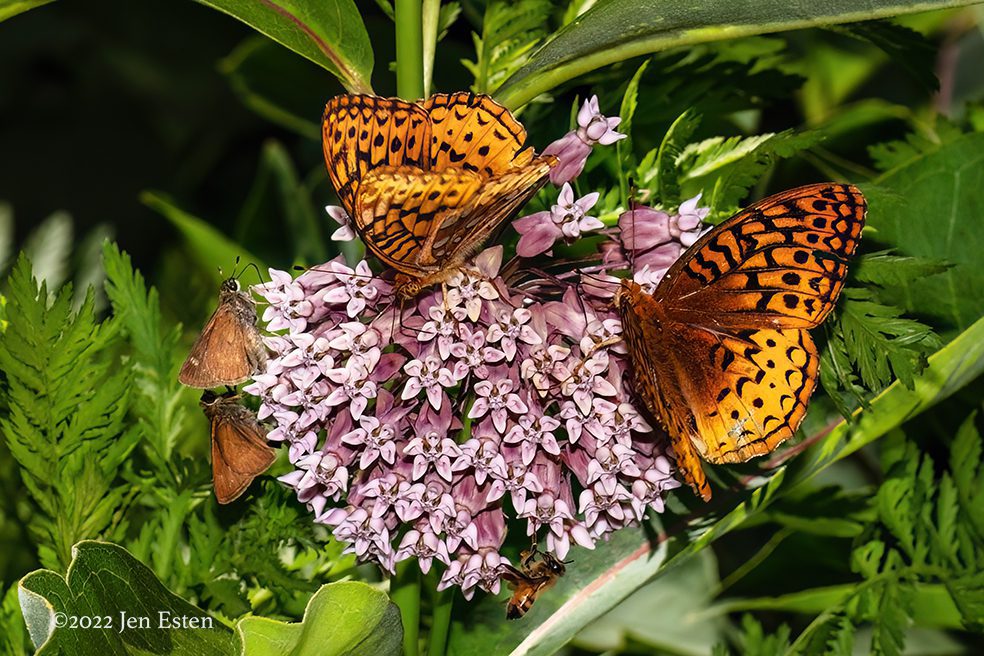 Below, a Clouded Sulphur visits a Salvia bloom.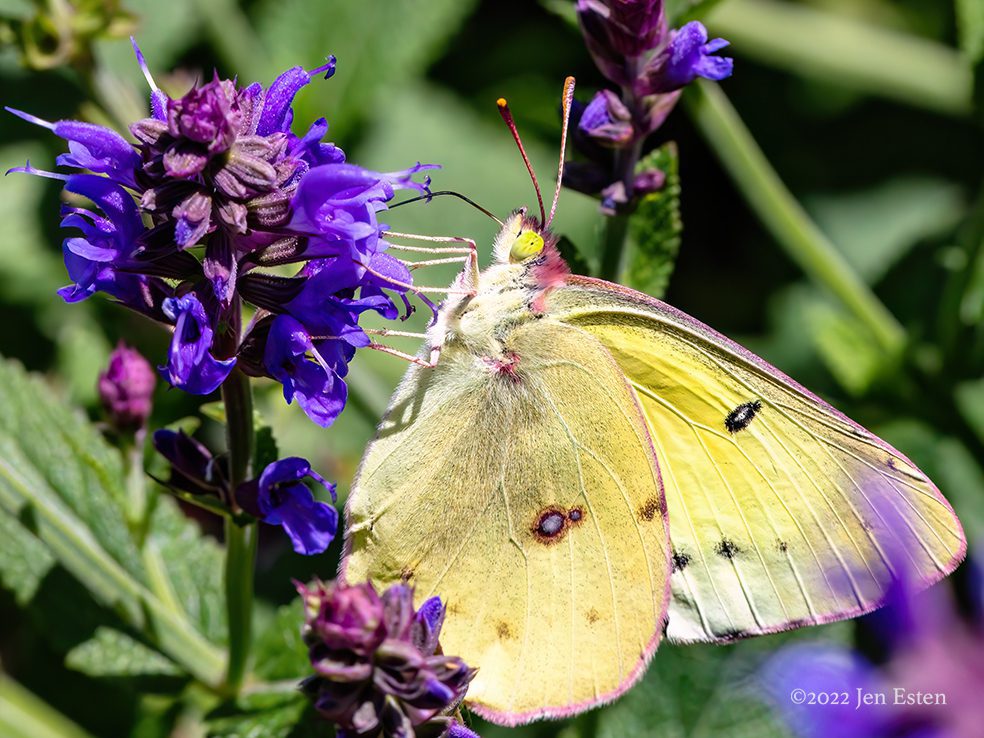 Many butterflies have striking differences in wing patterns between open and closed. The Great Spangled Fritillary has silvery white spots on the underwings.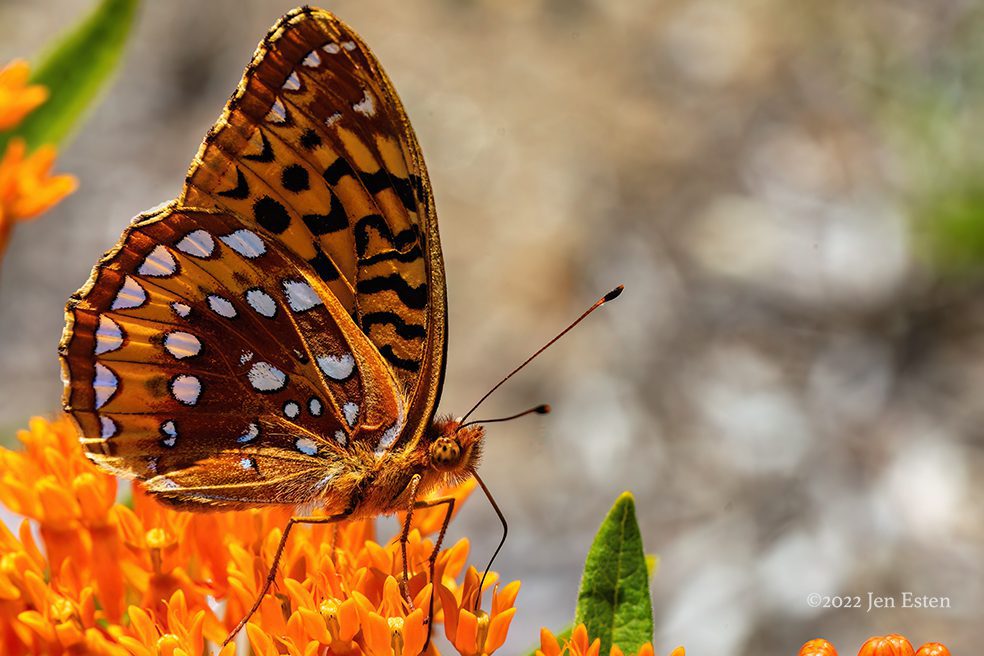 The White Admiral adds orange to the underwing.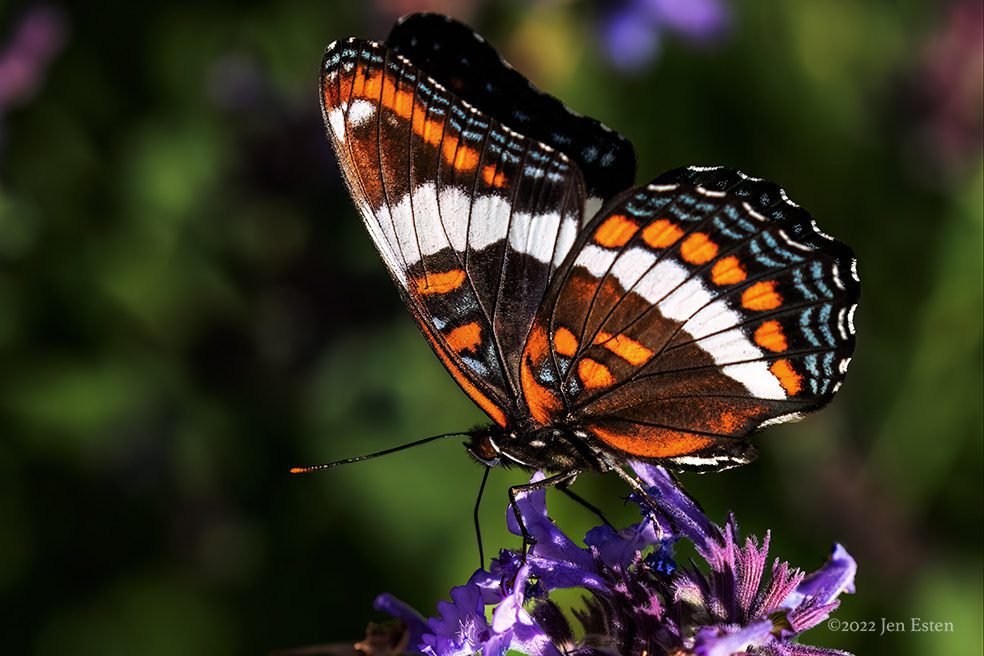 Skippers (Hesperiidae) are a large Family of Butterflies (3500+ worldwide) that are fairly easy to recognize as a group. All Butterflies have thread-like antennae with a thicker knob near the end. Skipper antennae add a hook to that knob as you can see below. Many species of Skippers have an unusual resting posture as well – hind wings flat, forewings angled upward. We suspect this is a Delaware Skipper (Anatrytone logan).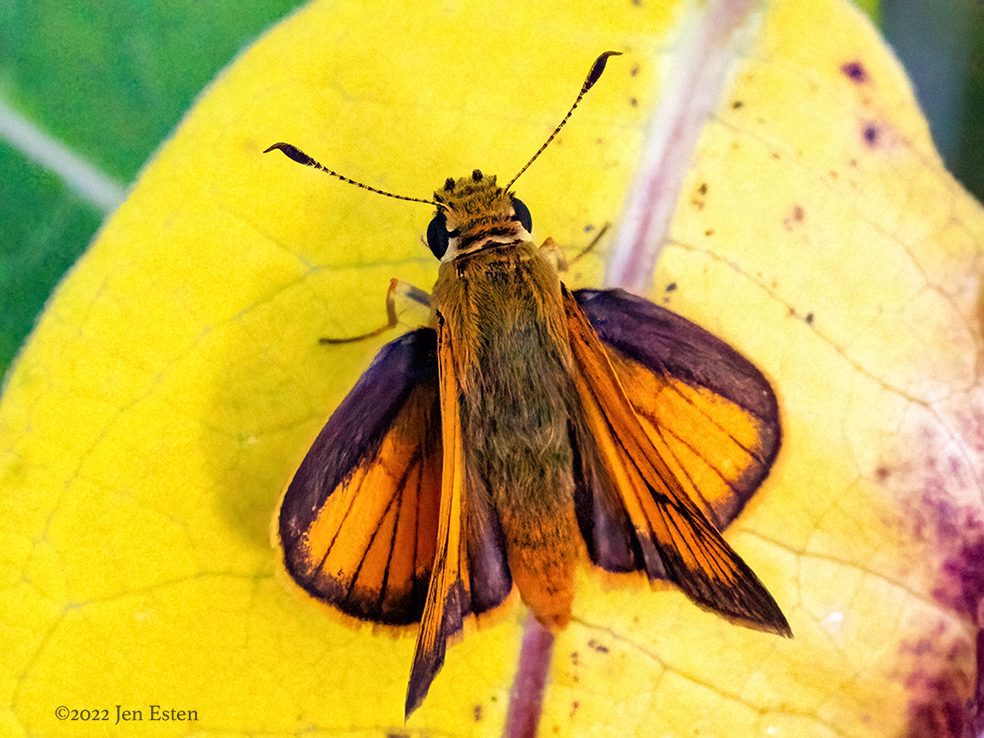 A common Skipper around here is the Silver-spotted Skipper (Epargyreus clarus) easily identified by the silver-white patch on its underwing.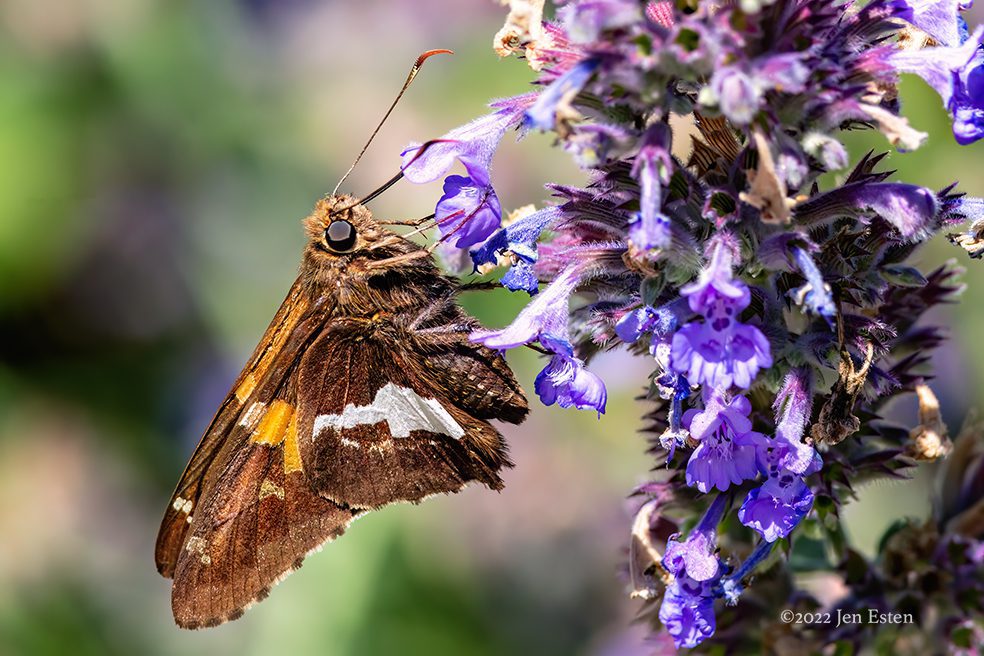 Individual species of Skippers can be hard to identify but are always worth a close look. The species below has us stumped …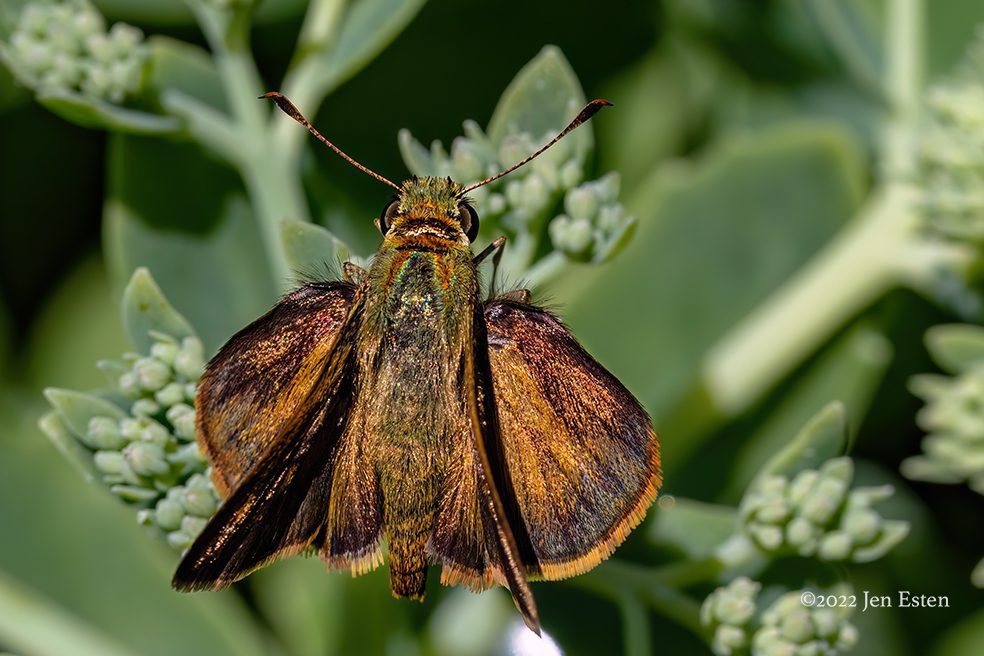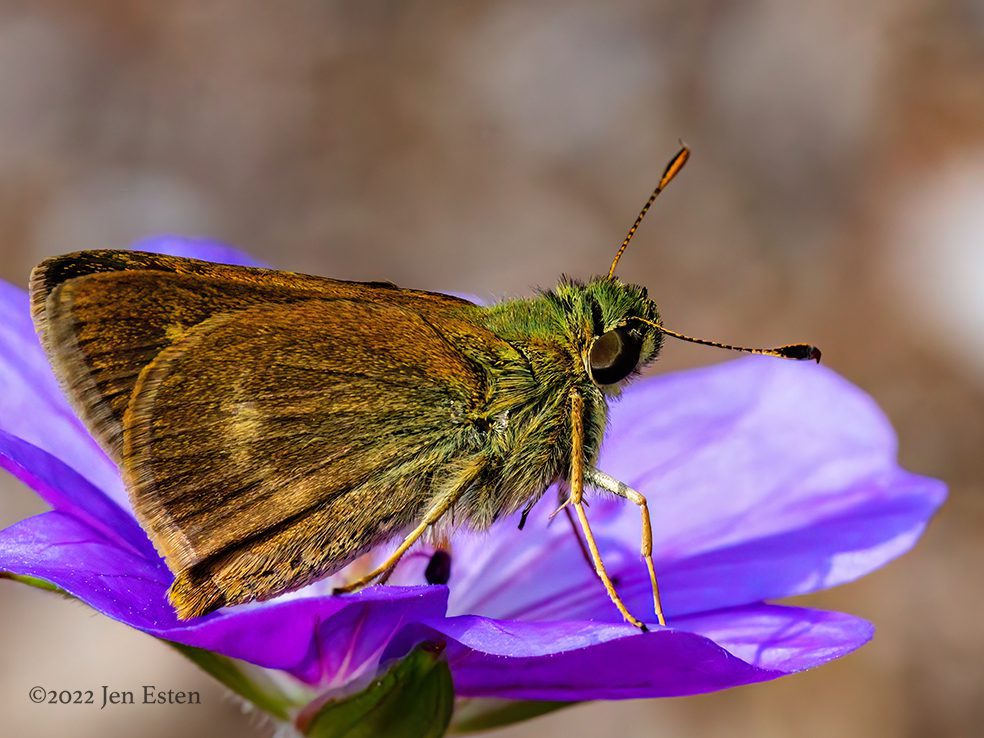 Butterfly, Moth or Hummingbird?
Most Moths, and there are more than 160,000 species worldwide (11,000 in North America), are fairly nondescript. However, those that are active during the daytime can be spectacular. Sphinx or Hawk Moths (Sphingidae) are strong fliers and many resemble hummingbirds in size and behavior. This Snowberry Clearwing (Hemaris diffinis) sheds most of the scales on it wings making them partially transparent.
The easiest way to tell Moths from Butterflies is by their antennae. Moth antennae vary from comb-like to blade-like (above) and very few have the shape of Butterflies and Skippers.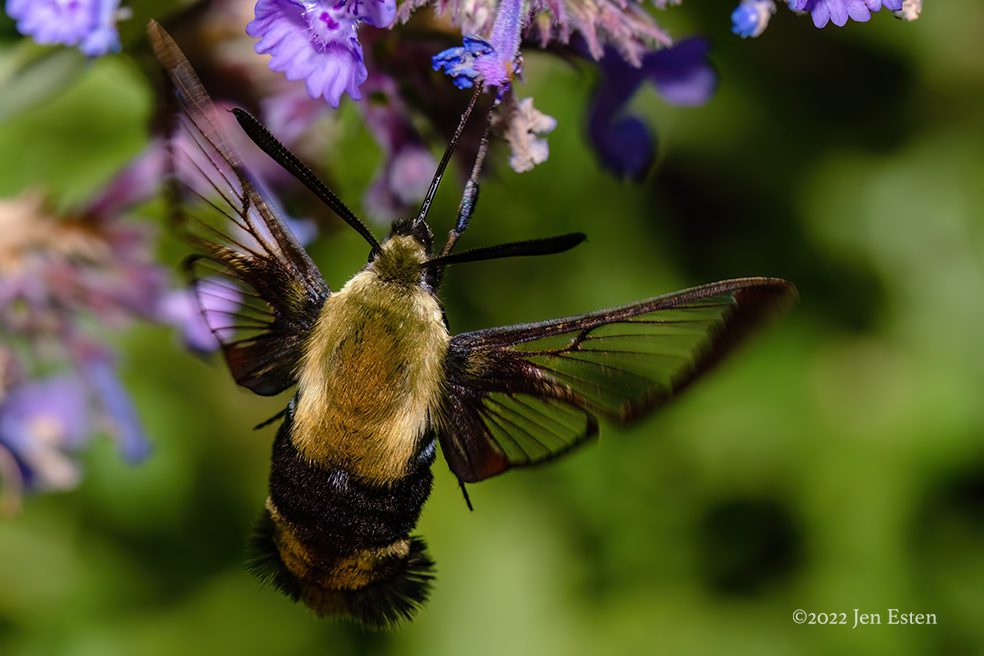 The coiled Proboscius ("tongue") of these moths can be twice as long as their body when unrolled.
We think of Butterflies and Moths as important pollinators, but many (like the Sphinx Moths) will take nectar from flowers without ever touching the flower or picking up pollen.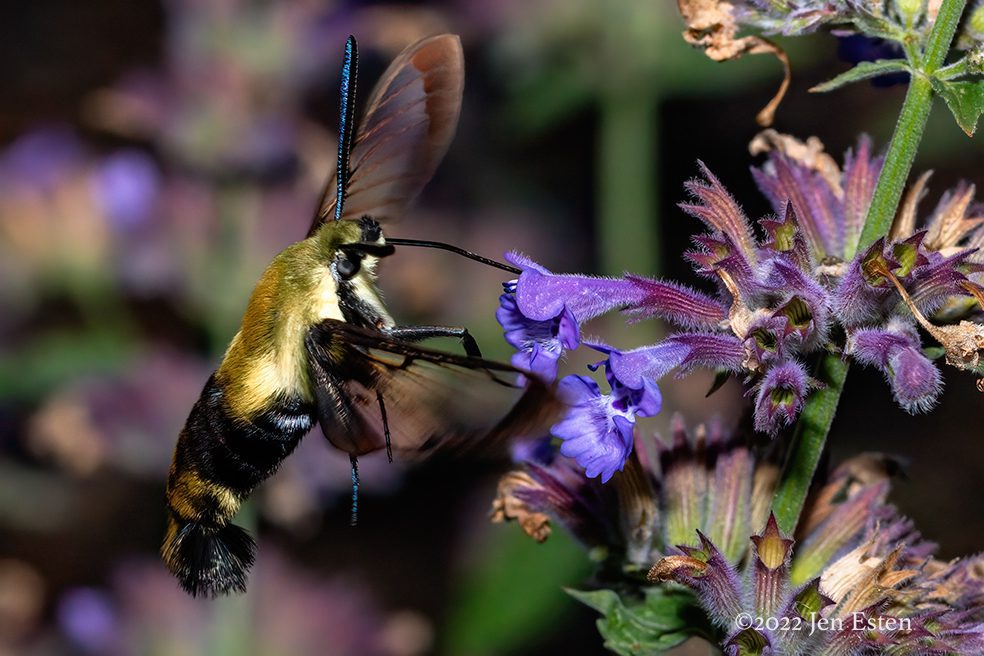 Bye for now…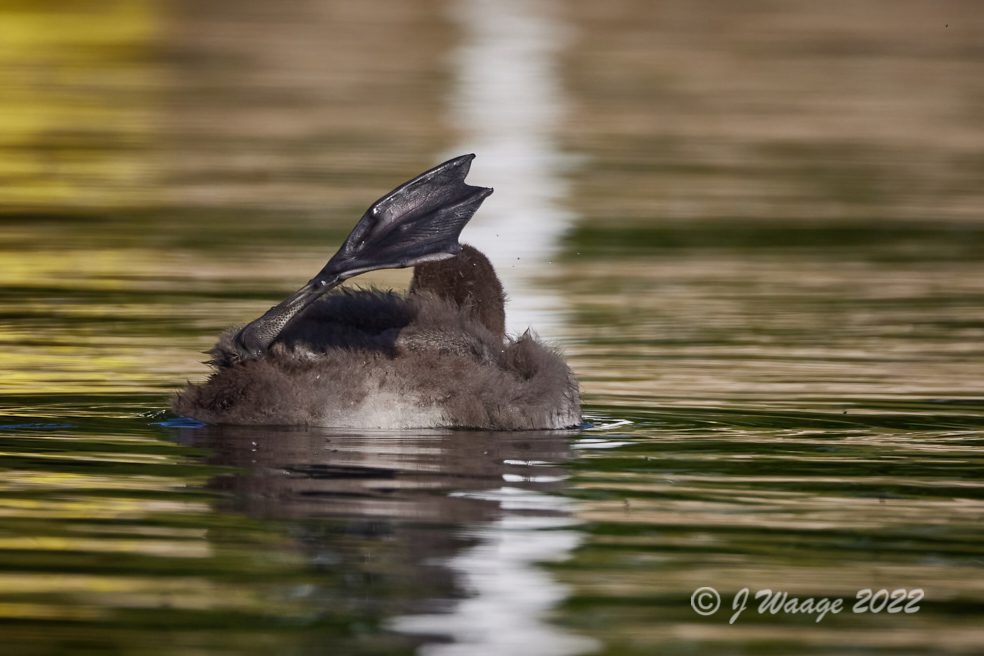 To be continued… Jon and Jen