Many songbirds, including the ones below, use their song to attract mates as well as to defend their territory. They are a delight to hear singing in Turtle Cove and all around the lake. Since they eat insects they rarely visit feeders, so the best way to see them is to follow their songs for a visual reward.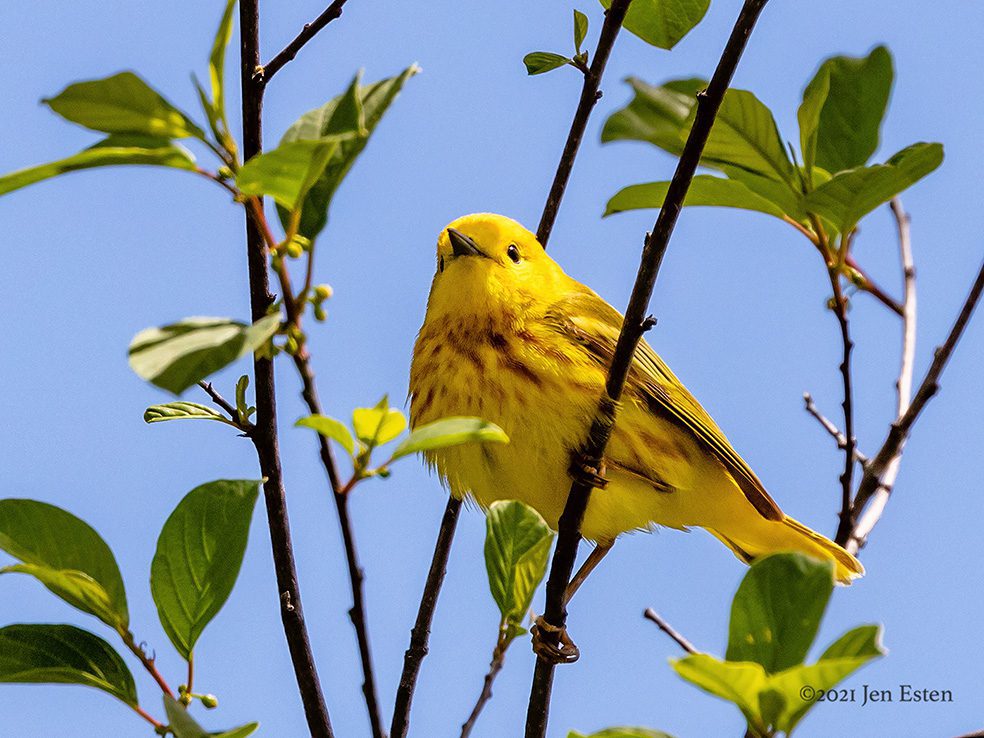 YELLOW WARBLER
It is always a treat to hear and see a Yellow Warbler in Turtle Cove. They are a brilliant yellow all over, with the male sporting red stripes on his chest. Their song sounds like "sweet, sweet, a little bit sweet". Click here to listen to the song You can scroll down that page to hear more recordings.
Yellow warblers breed all across northern US and Canada, and migrate to Central and South America for the winter. The birds we see in New England will make the journey across the Gulf of Mexico in a single flight!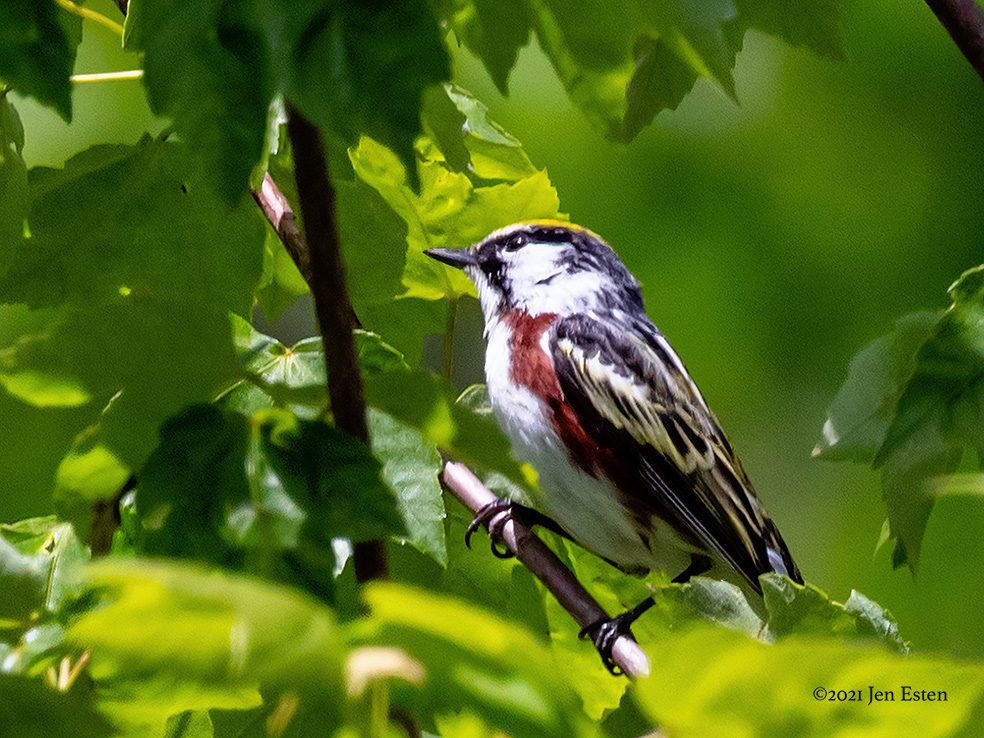 CHESTNUT-SIDED WARBLER
The Chestnut-sided Warber is very common in the Pleasant Lake watershed. It breeds in Turtle Cove as well as in our yard, and we hear them singing frequently along the shoreline. Their song sounds like "pleased, pleased, pleased to meetcha!"   Click here to listen to the song.
The Chestnut-sided warbler in breeding plumage, as seen now, is a gorgeous warbler with chestnut-colored flanks, black mask, and a yellow cap. The female is paler than the male. They breed in the northern US from the Great Lakes through New England and into southern Canada, and migrate to Central America for the winter.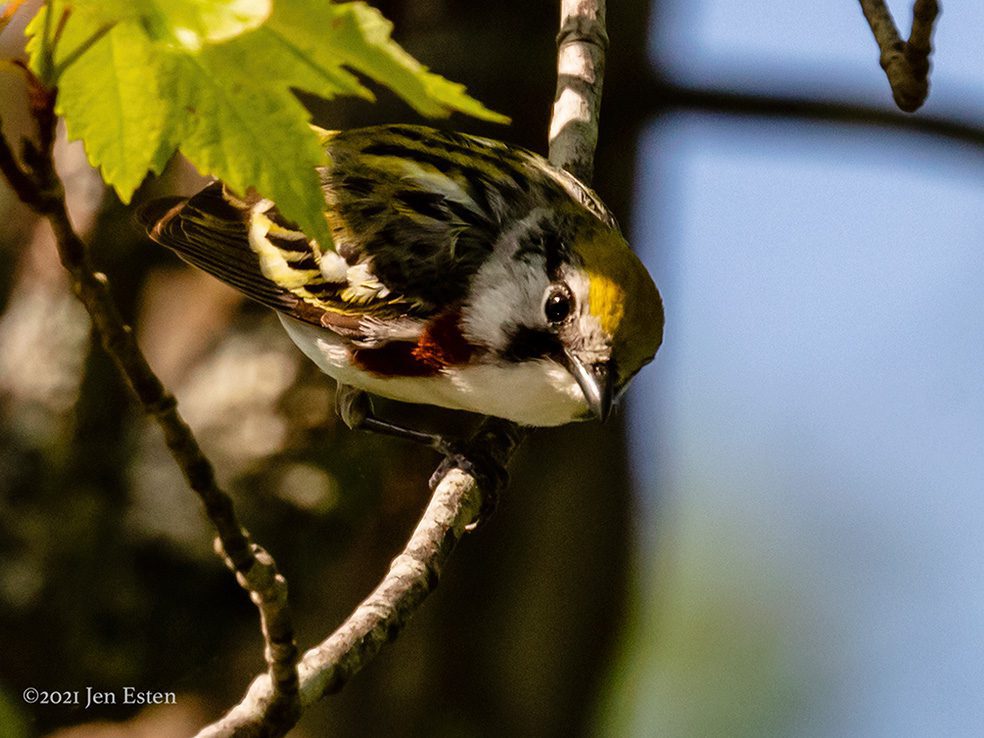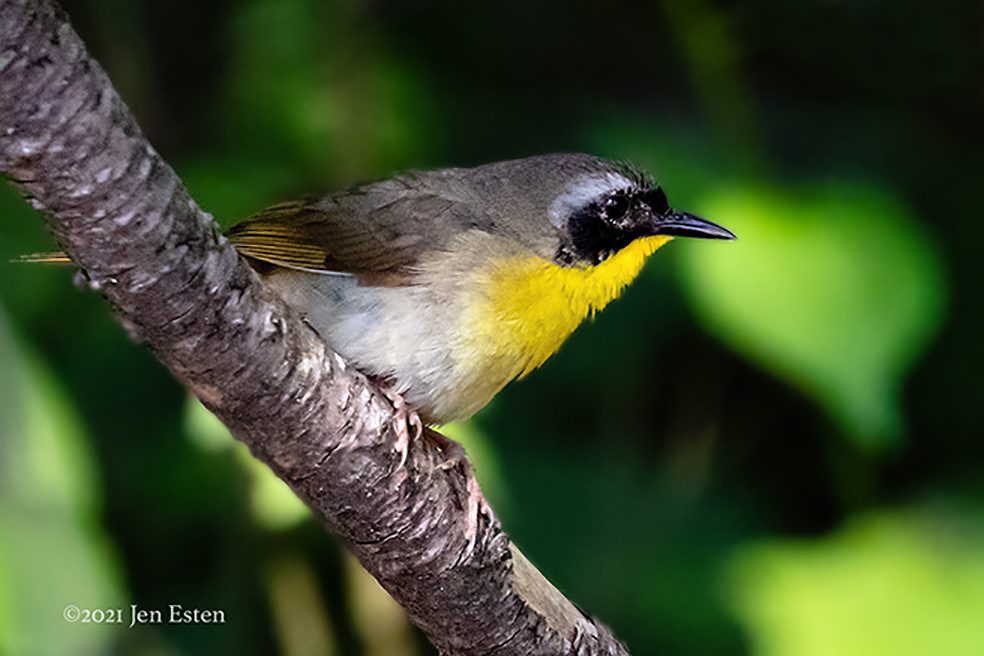 COMMON YELLOWTHROAT
The Common Yellowthroat prefers low dense vegetation and can be heard singing from bushes all along Pleasant Lake's shoreline and possibly in your back yard. They are one of the easiest warblers to identify because of the male's 'raccoon' mask and bright yellow throat. Females lack the distinctive black mask.  It has a distinctive song that sounds like "wichity, wichity, wichity". Click to hear the song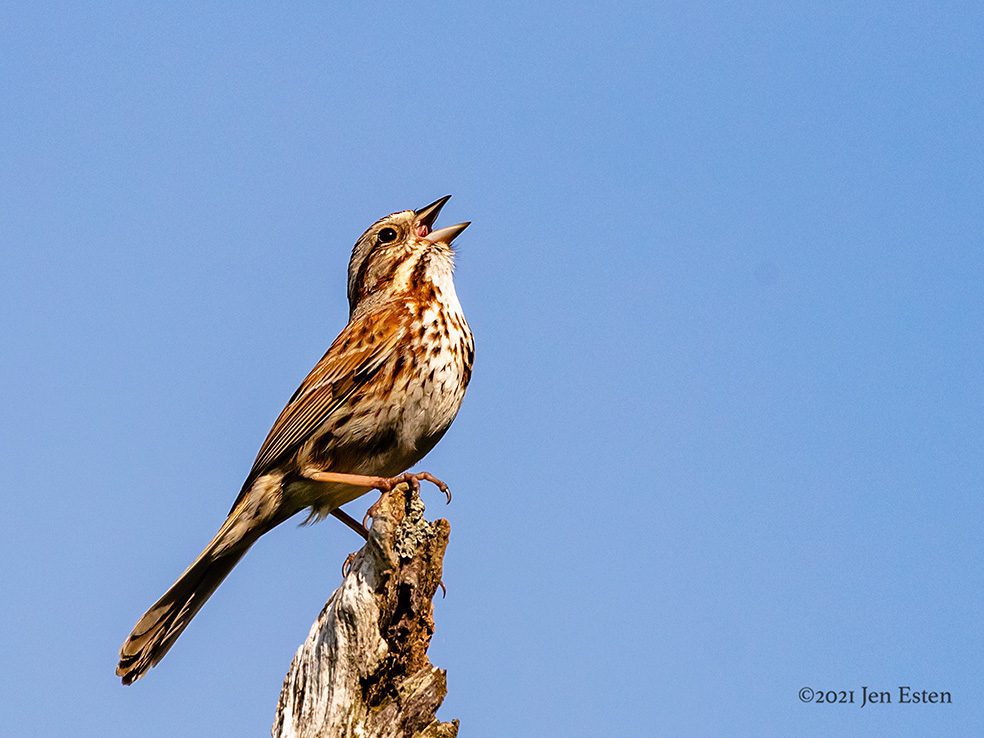 SONG SPARROW
By far the most prolific songster on Pleasant Lake is the Song Sparrow. They seem happy to sing all day long. They have coarse streaks on their breast with a dark centra spot.  They are found in a tremendous variety of open habitats all through North America, and occupy the entire shoreline of Pleasant Lake as well as our yard and probably yours. These sparrows, unlike warblers, don't migrate far, staying mostly within the US.  [http:///www.allaboutbirds.org/guide/Song_Sparrow/sounds]Click to hear the song.
Photographs by Jen Esten and Jon Waage