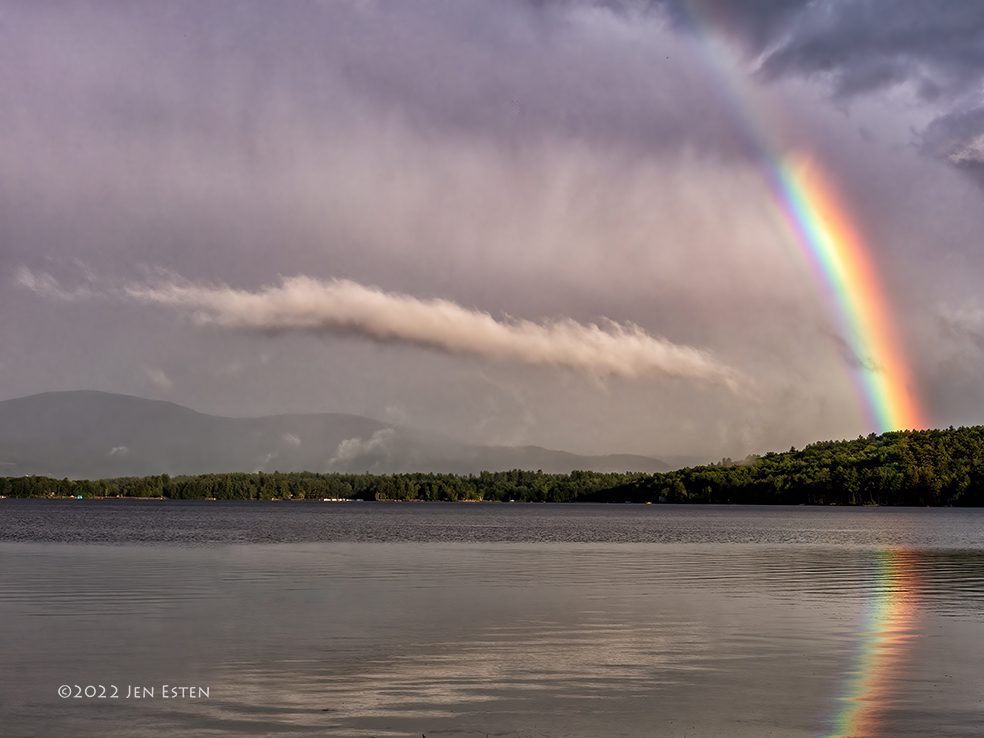 A Better Summer
We end this season's Newsletters with a review of a much better year than last year for our Loons. As he has done the last 15 years, our male was back early for his 16th breeding season.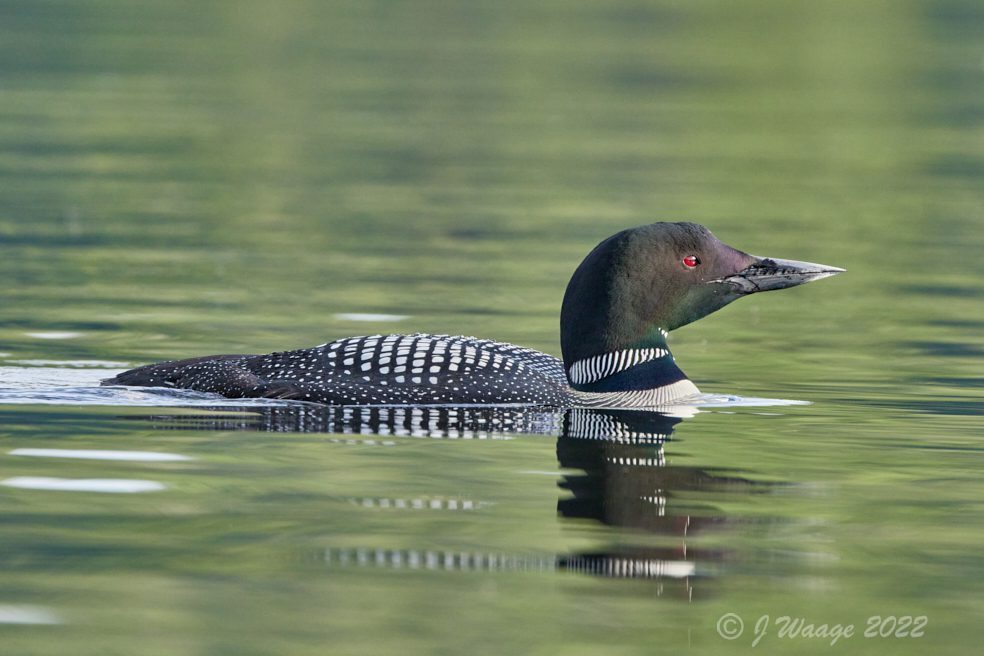 Our female returned soon after for her 16th year, 15th breeding with the male because of the turmoil during the summer of 2021. She made it clear (see below) her leg bands needed replacing this summer.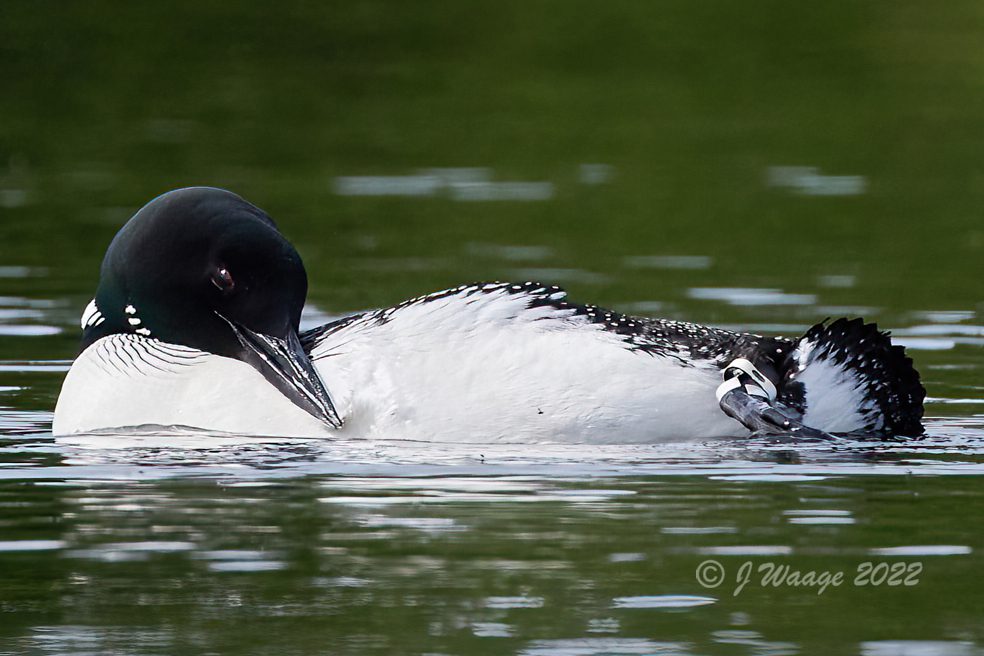 She laid two eggs, one on May 10th and the other May 13th. The first to hatch was named Prosper and the second Patience (the names were chosen by Jane and Bill Hopwood).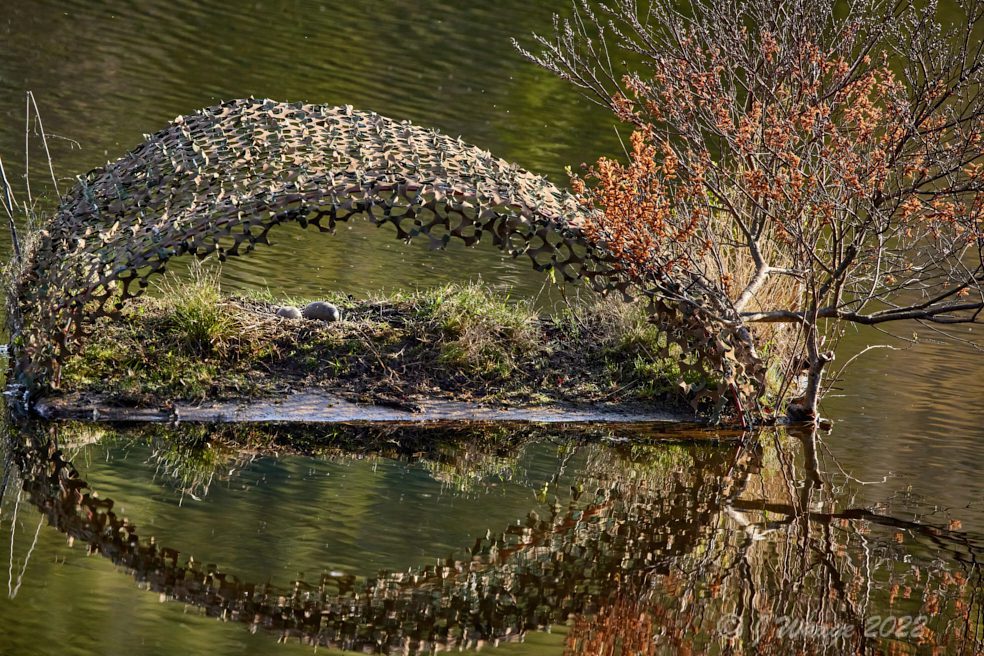 Both chicks hatched on June 8th and by late afternoon they were exploring around the nest, though one seemed more active and dominant.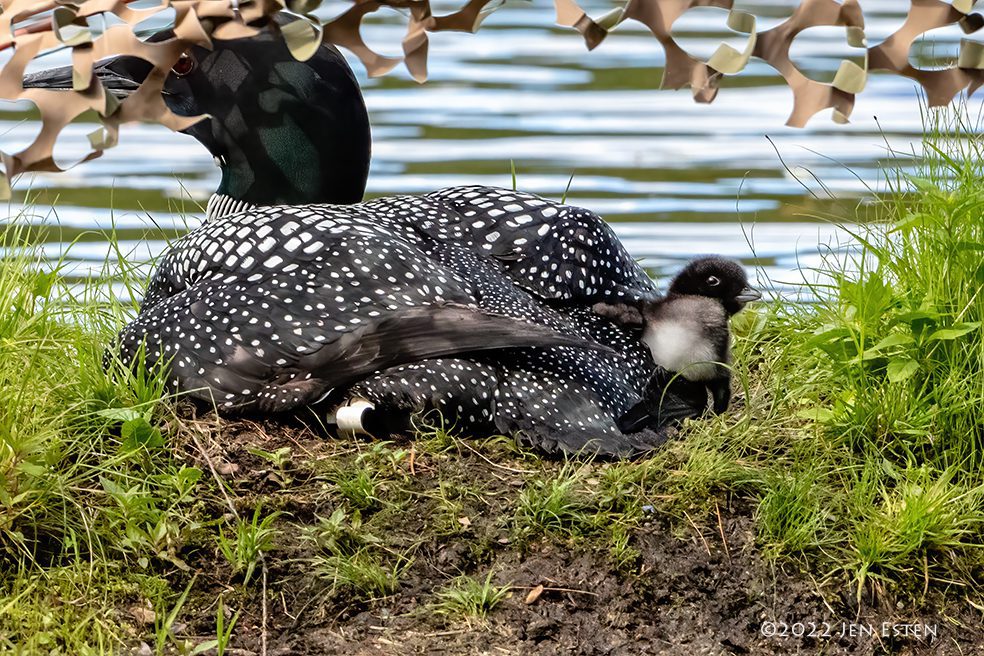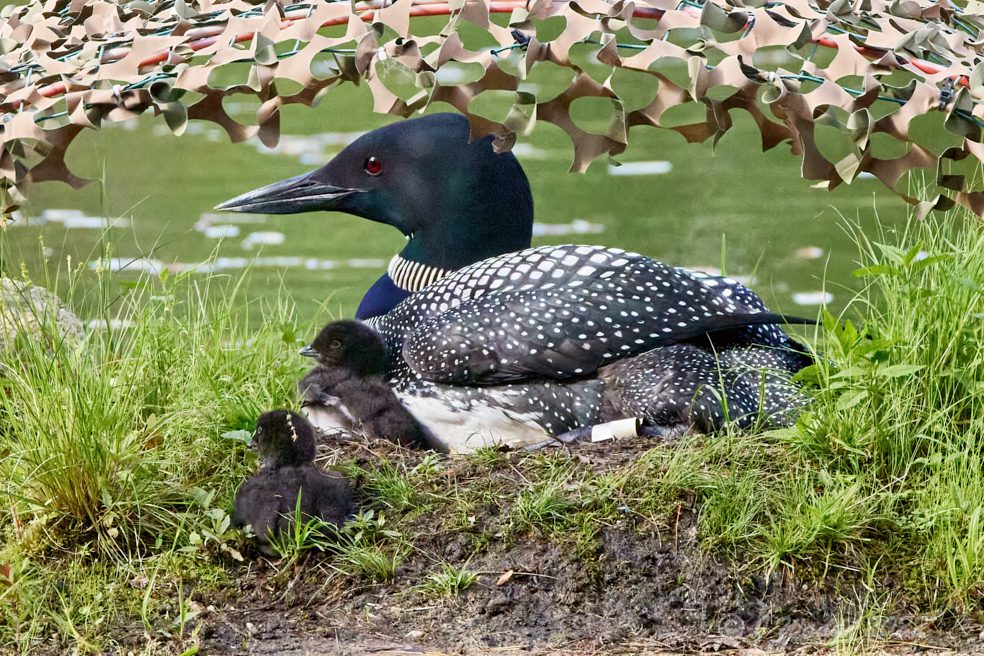 The parents had been trading nest duties for the four weeks.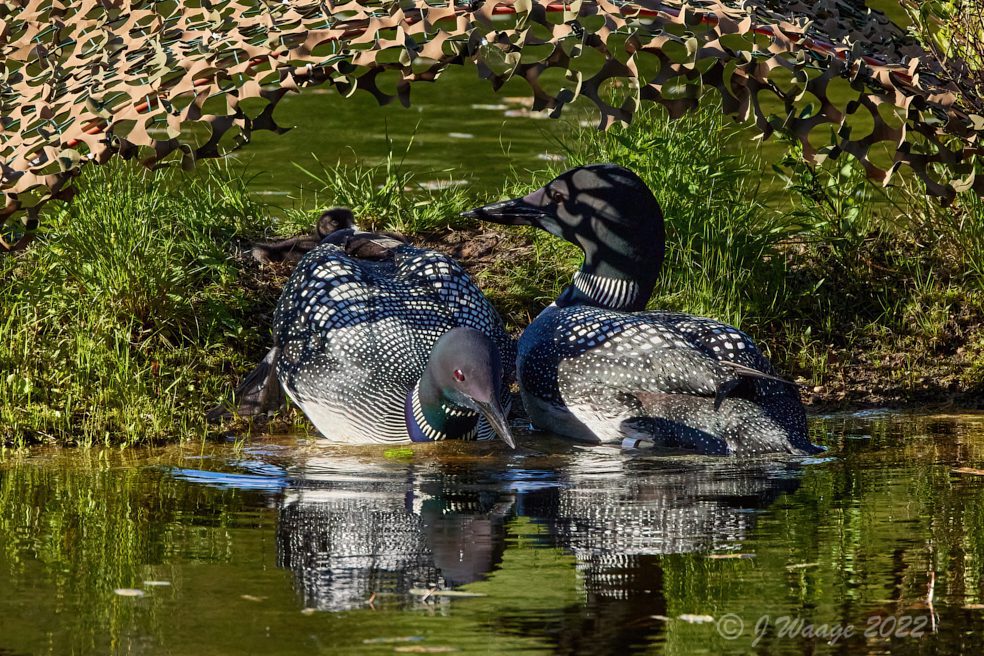 They soon left the Cove with Prosper and Patience aboard.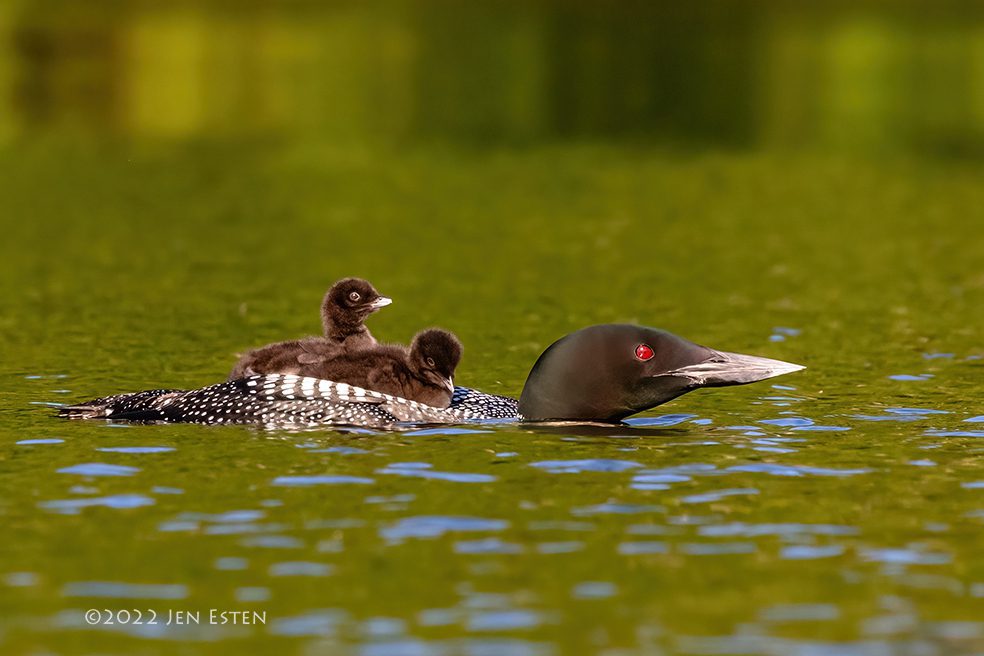 The chicks rode on one parent while the other fished.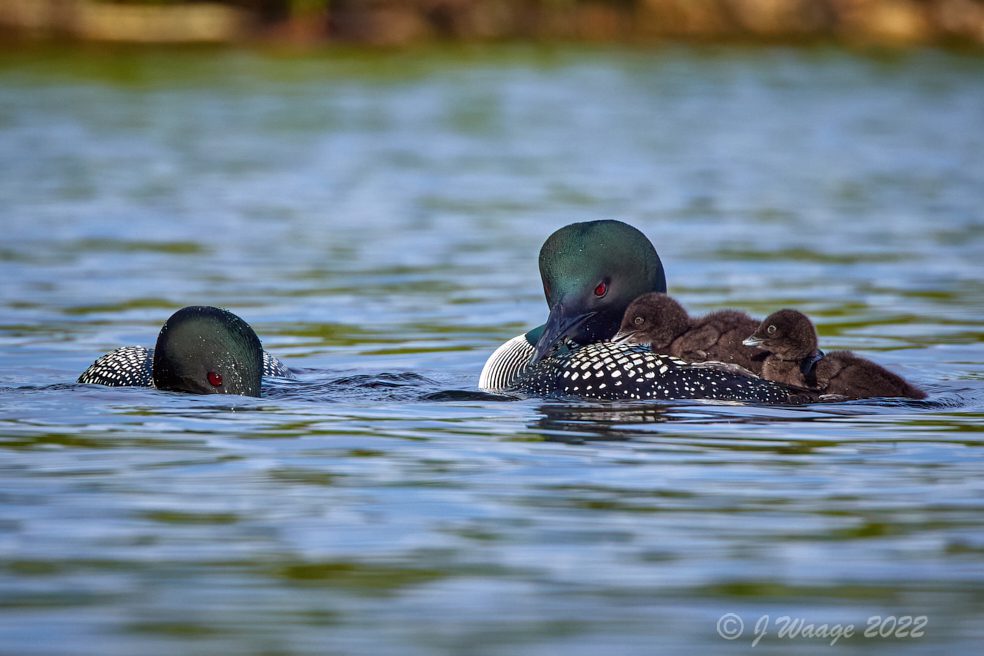 Feeding in the shallow areas of the Lake, the parents brought fish after fish. We did notice that one chick, Prosper, was a bit more active in the early days, but both took food.
Loons are very protective of their offspring. Below the male is responding to dogs close to shore while the family was feeding nearby.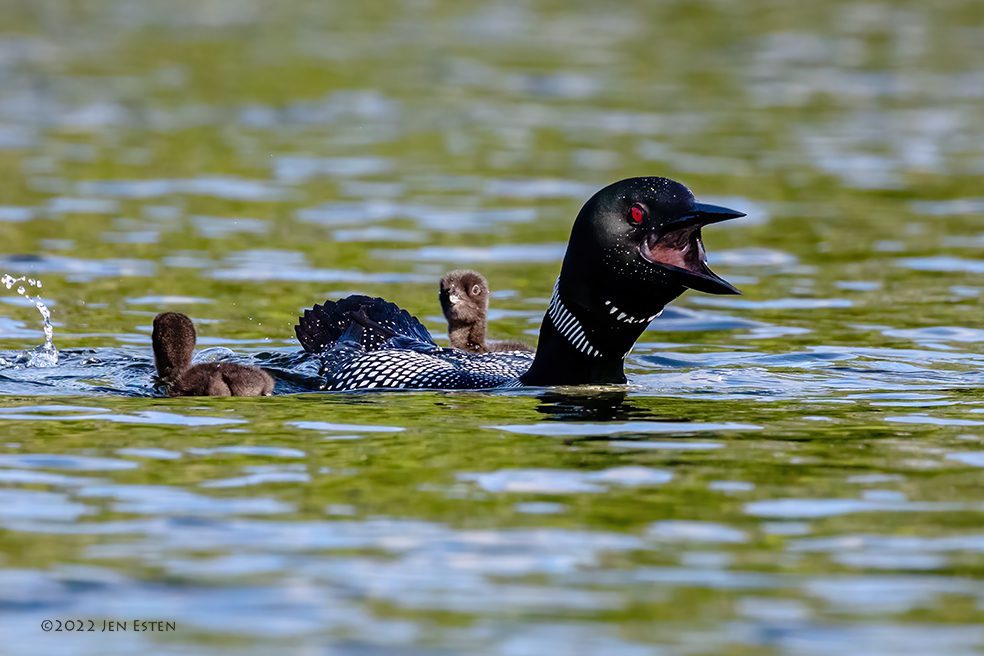 On June 12th, things took a turn for the worse. An intruding Loon had been challenging the pair. Early on the 12th they had a series of intense fights, eventually driving the intruder off.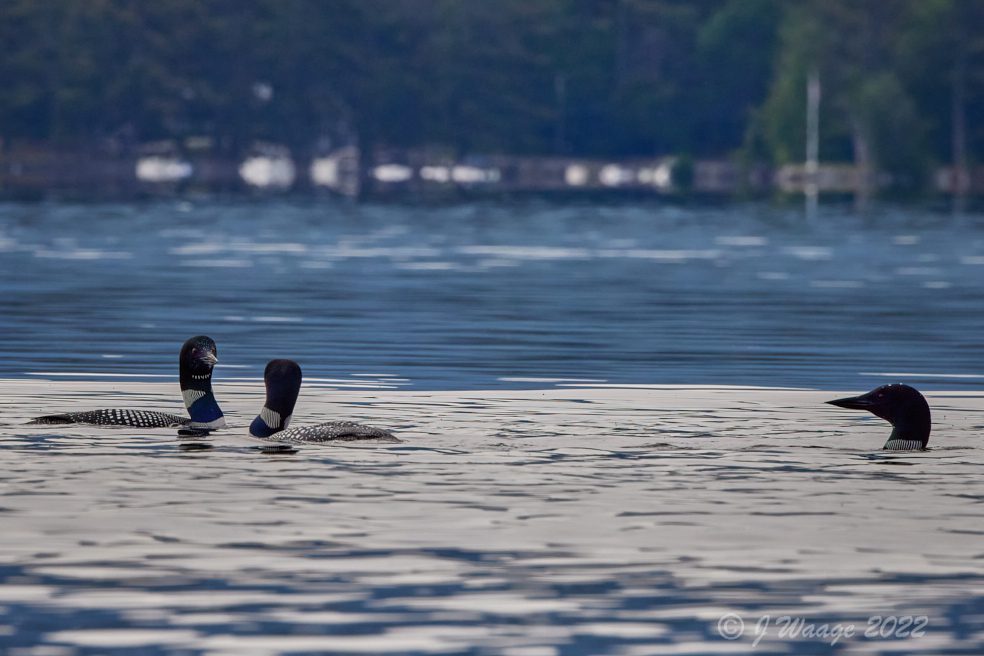 Once the intruding Loon was chased away, we searched for the chicks but only found one. Prosper was soon tended by its parents. We do not know if Patience had disappeared before or during the fighting. We had last seen both chicks the day before.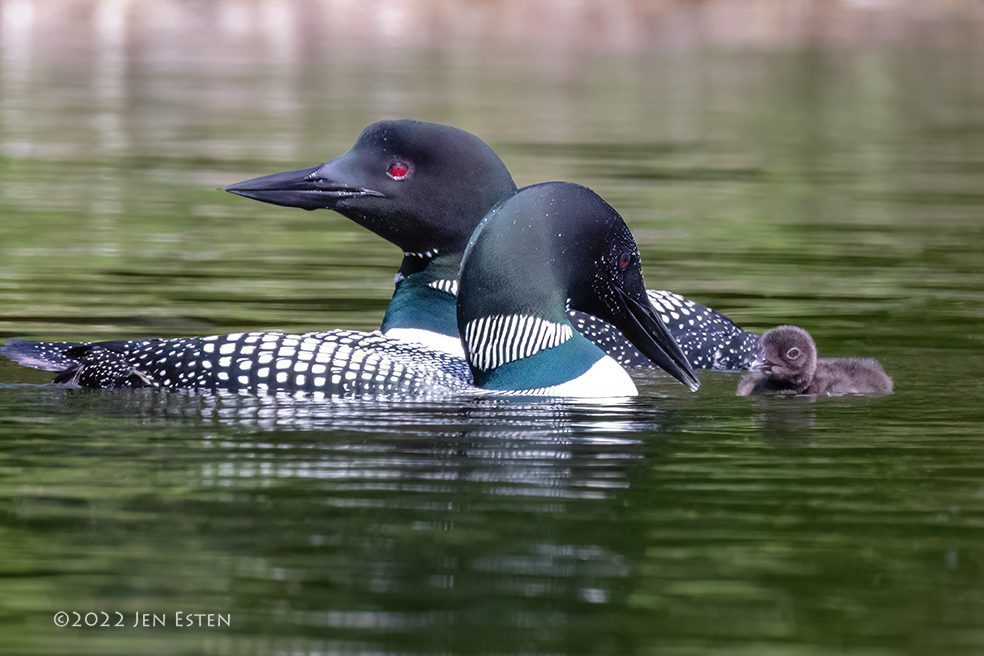 Prosper then got the full attention of both parents bringing food.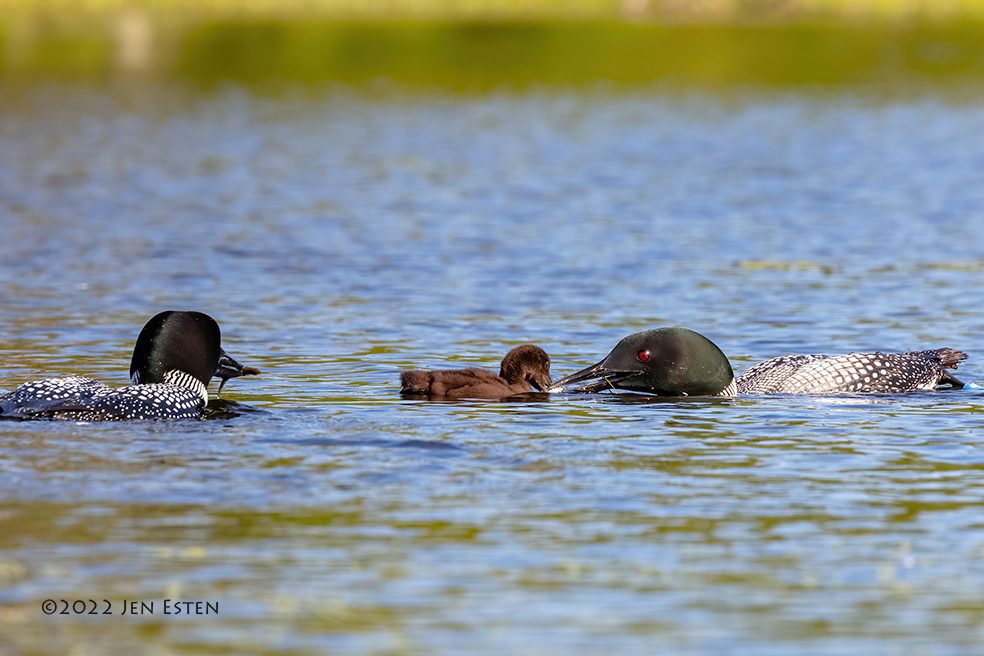 Prosper grew quickly, exercising various body parts now and then.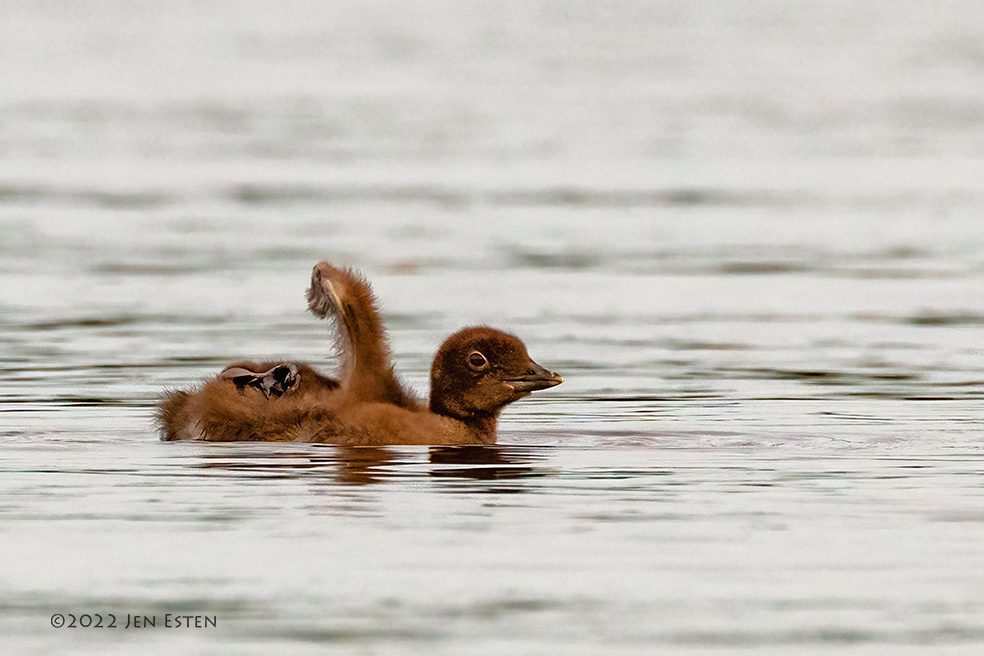 Once things had settled down, the female was captured after dark and given a new set of bands by a crew from LPC (Loon Preservation Committee). We got a good look at her new bands the next day (on the left below).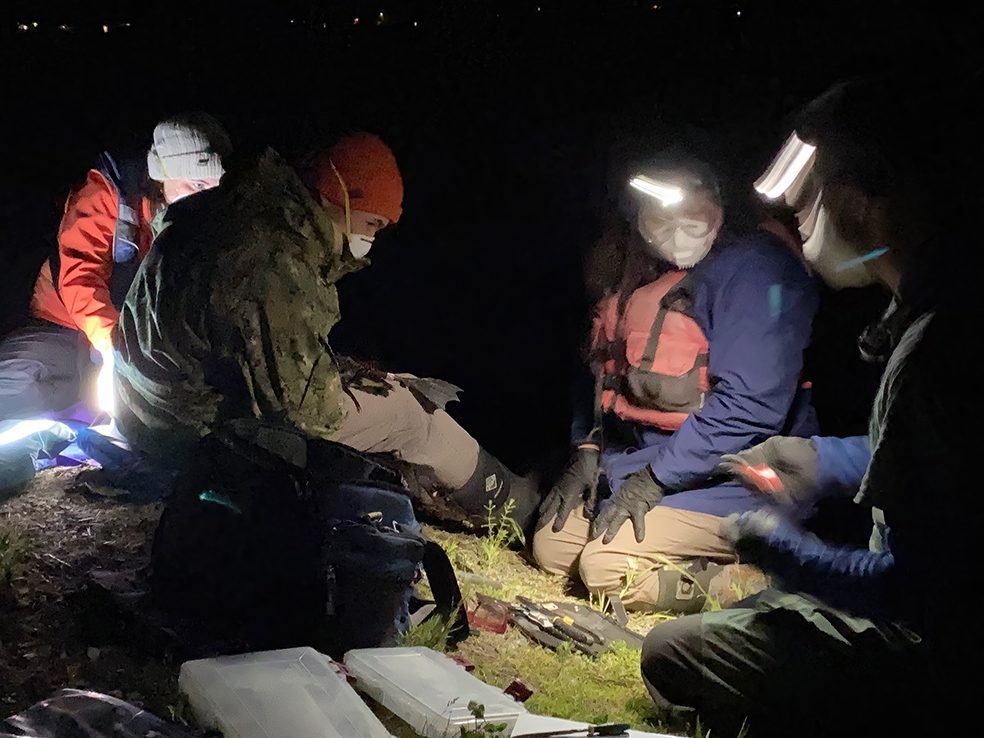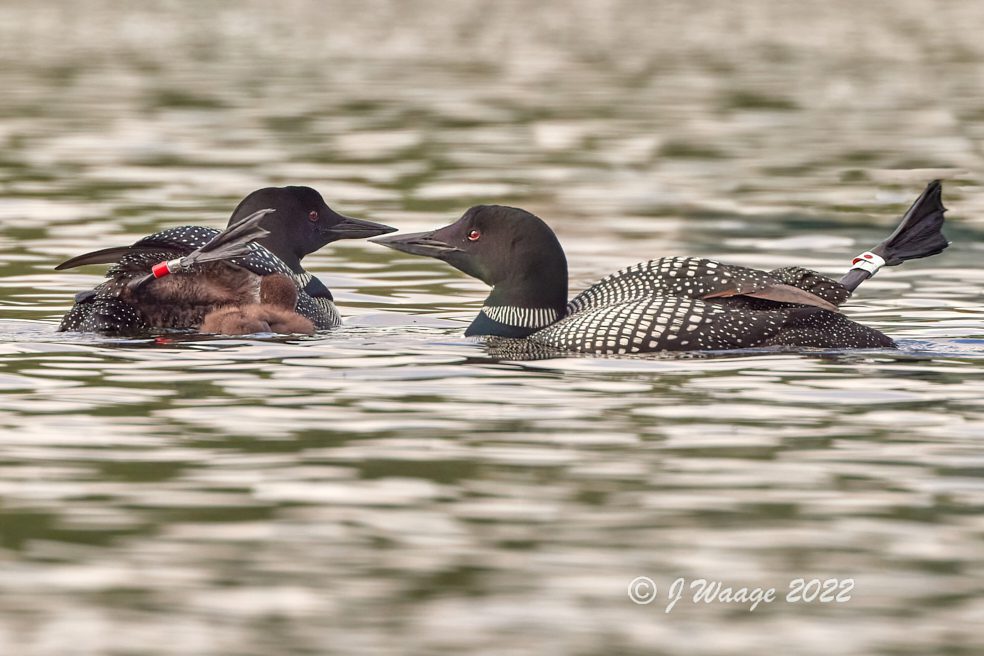 On a diet of mostly Yellow Perch and Crayfish, Prosper was living up to its name!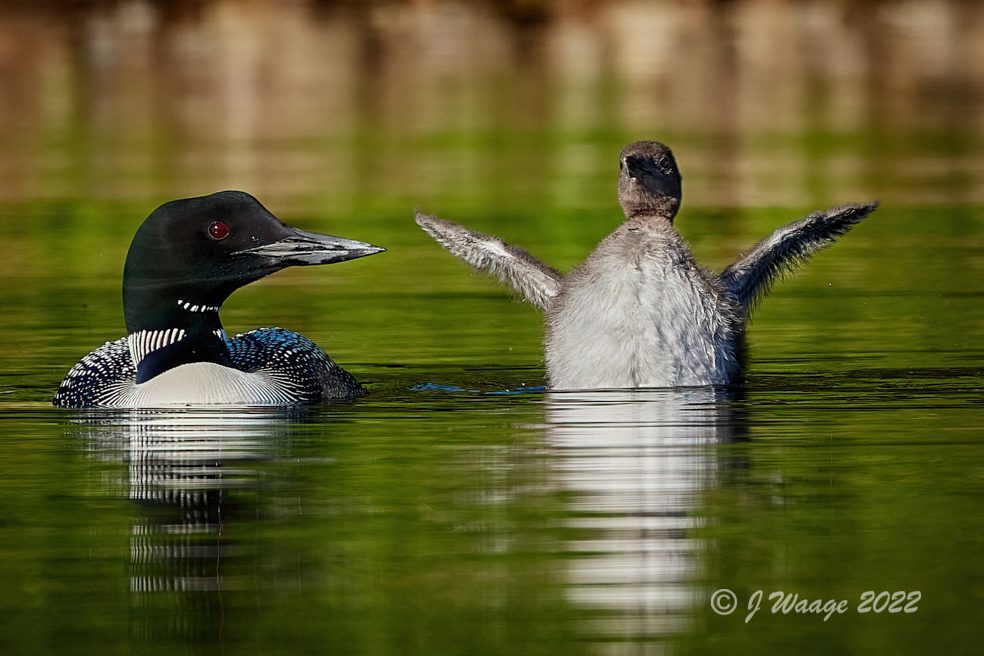 The first photo below was taken on June 20th when Prosper was 12 days old, the second on July 10th at 32 days.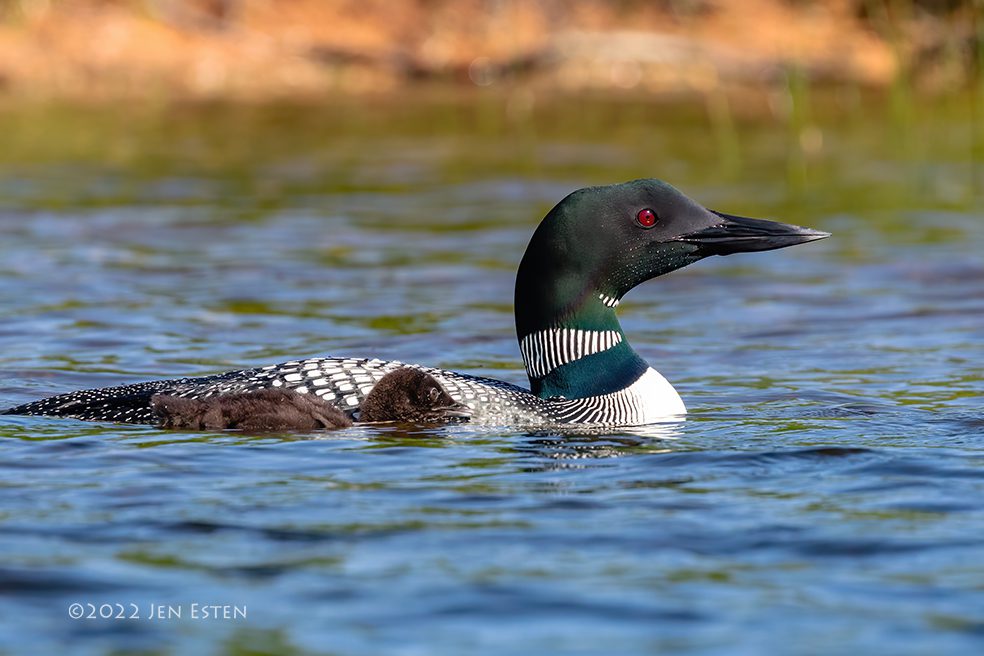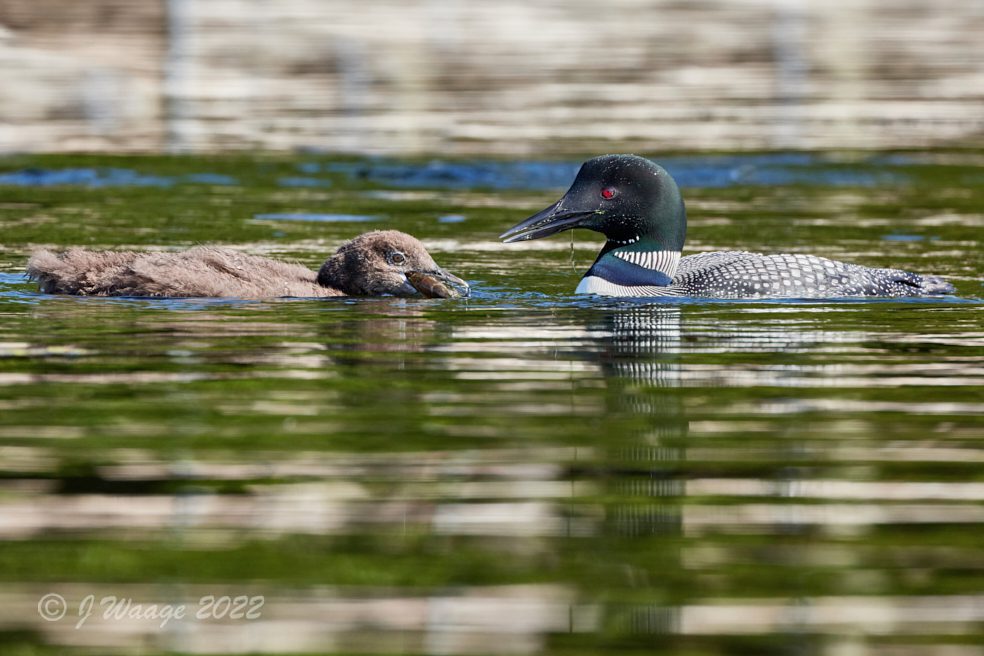 By July 18th, Prosper was already molting into juvenile plumage.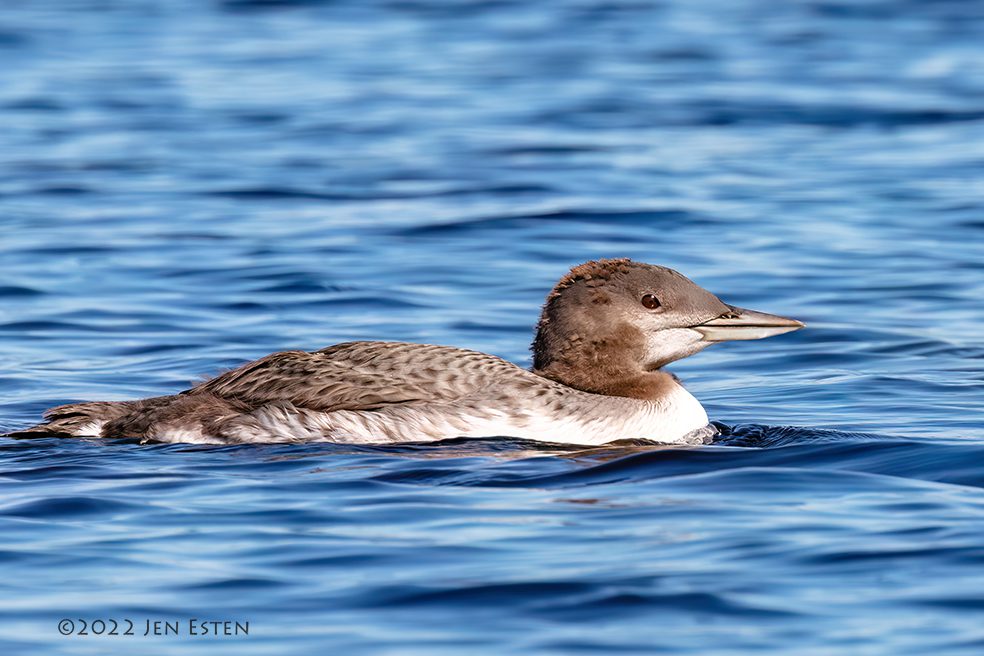 Still begging for food, Prosper looked more Loon-like every day.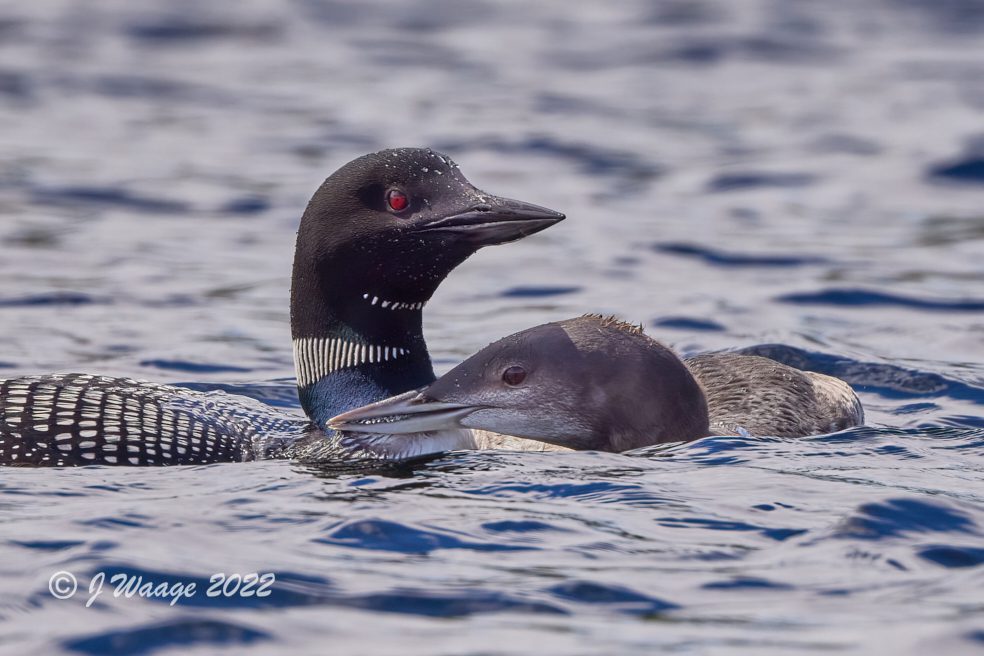 By mid-August the youngster had fully molted, was diving for long periods and testing its wings.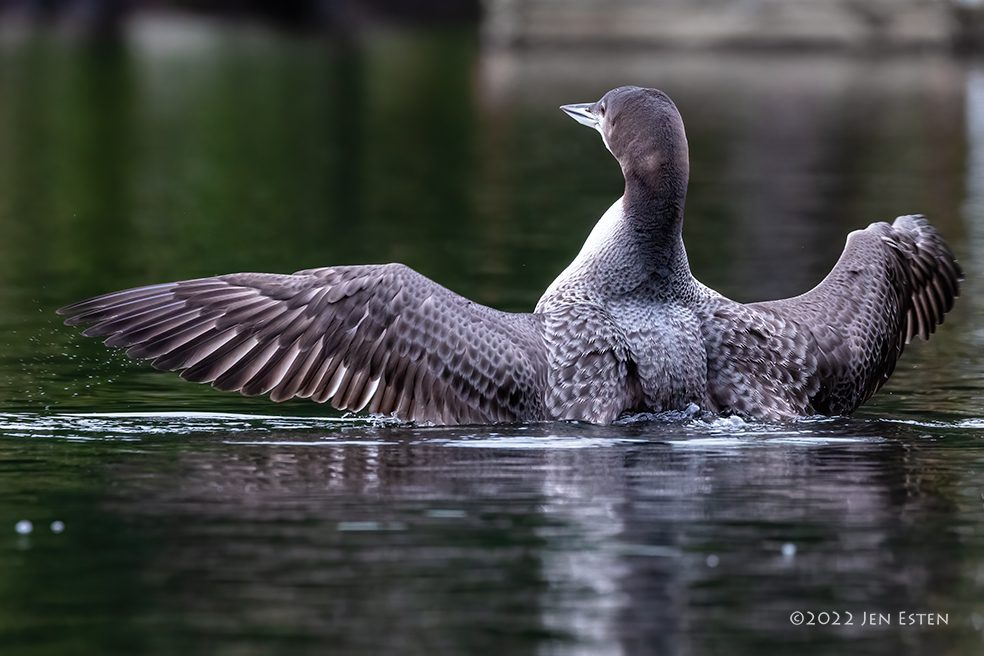 We got photos of Prosper practicing flying on Sept 3rd. It will take two years on the ocean and another two or three, most likely on a nearby lake, before Prosper is fully mature.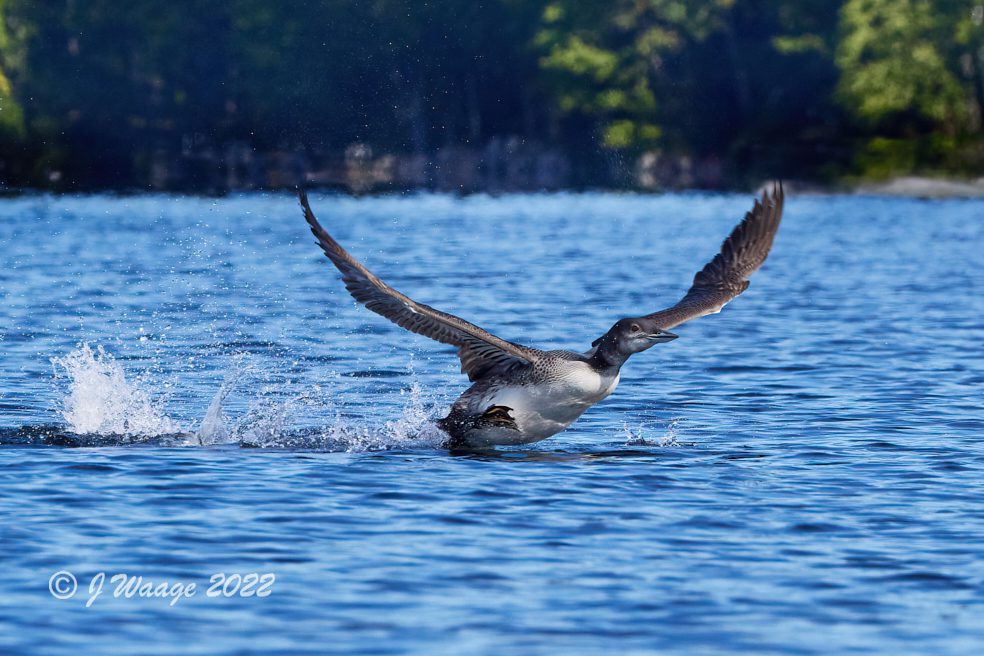 Prosper was too adept at avoiding capture to be banded, so we will not know what sex it is or what its future will be. In general, birds that fledge at the ideal weight and ability have the best chances to survive into adulthood. Thanks to its parents, our youngster seems likely to live long and prosper.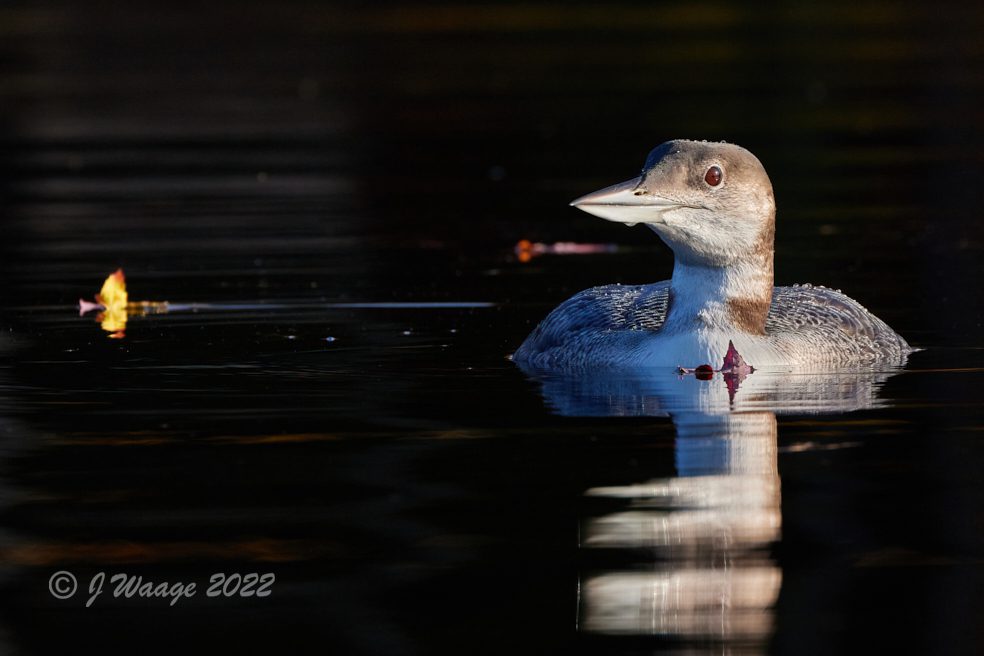 It was a joy to welcome our female back this season. She was hatched and banded on Squam Lake in 2001. We believe she first arrived on Pleasant Lake in 2006 and began breeding here in 2007. She could live to be 30 years old or a bit more. We hope to see her again next summer.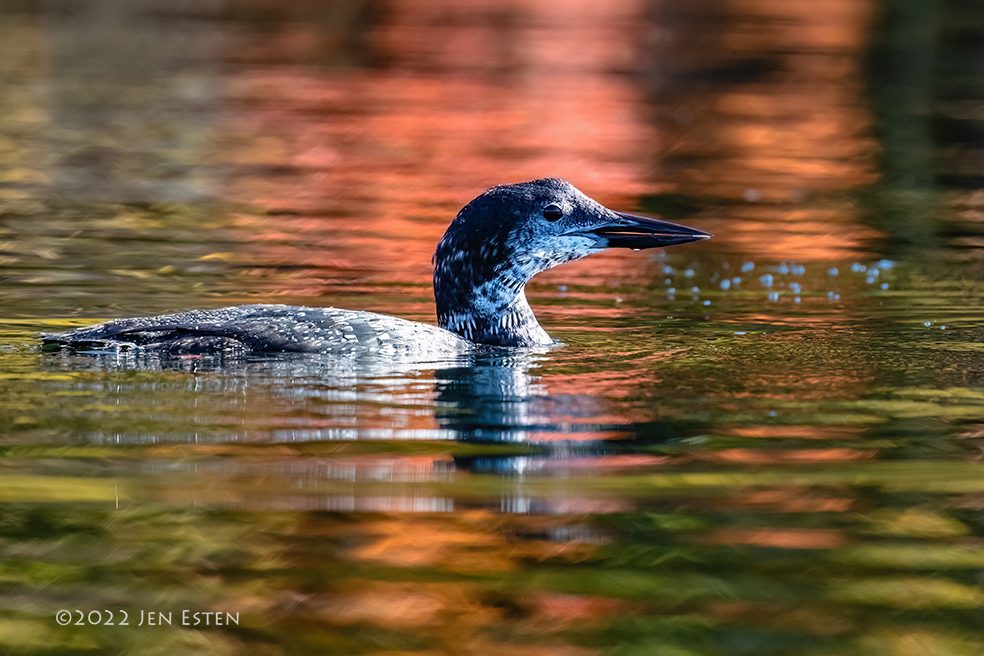 Our male is most likely a similar age. He was banded as a parent on Pleasant Lake in 2010 but probably arrived a few years earlier. It is an awesome privilege to spend the summer with our Loons and we enjoy sharing their story with you.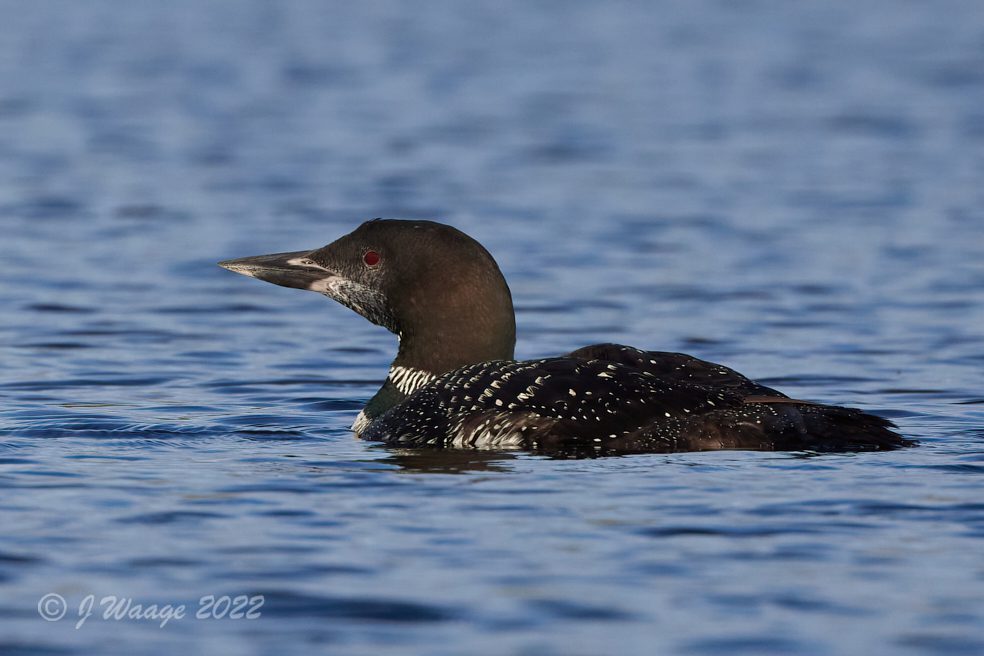 Prosper's parents are among New Hampshire's most productive pair. We all hope we can maintain the quality of Pleasant Lake for future Loon success.
---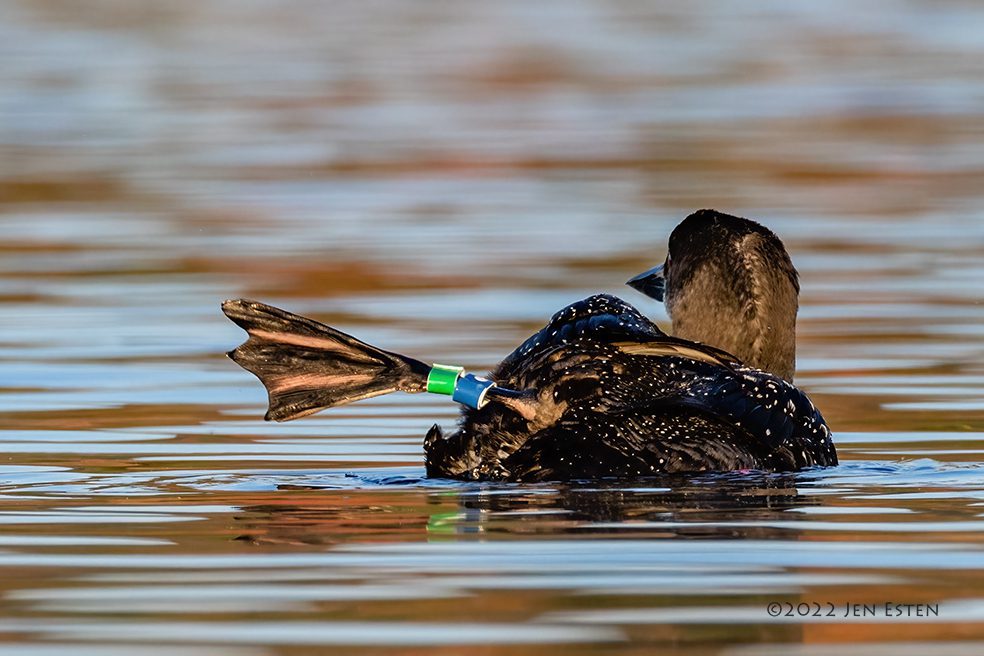 See you next May … Jon and Jen
---
Text and Photographs by Jen Esten and Jon Waage