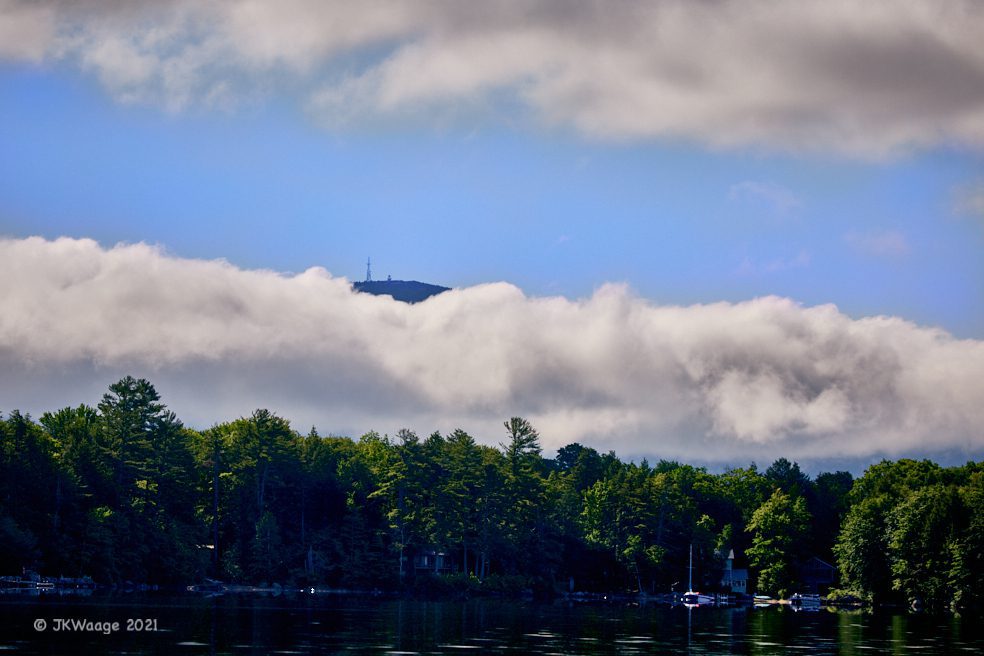 Our Loon parents are taking turns sitting on their eggs. Given the normal incubation period for Loons, we expect the chicks to hatch just before the 4th of July this year. With the Fireworks on the 2nd and a lot of Lake activity over the weekend, it could be a hard time for them. Please keep an eye out for them on the Lake – the chicks can't escape by diving.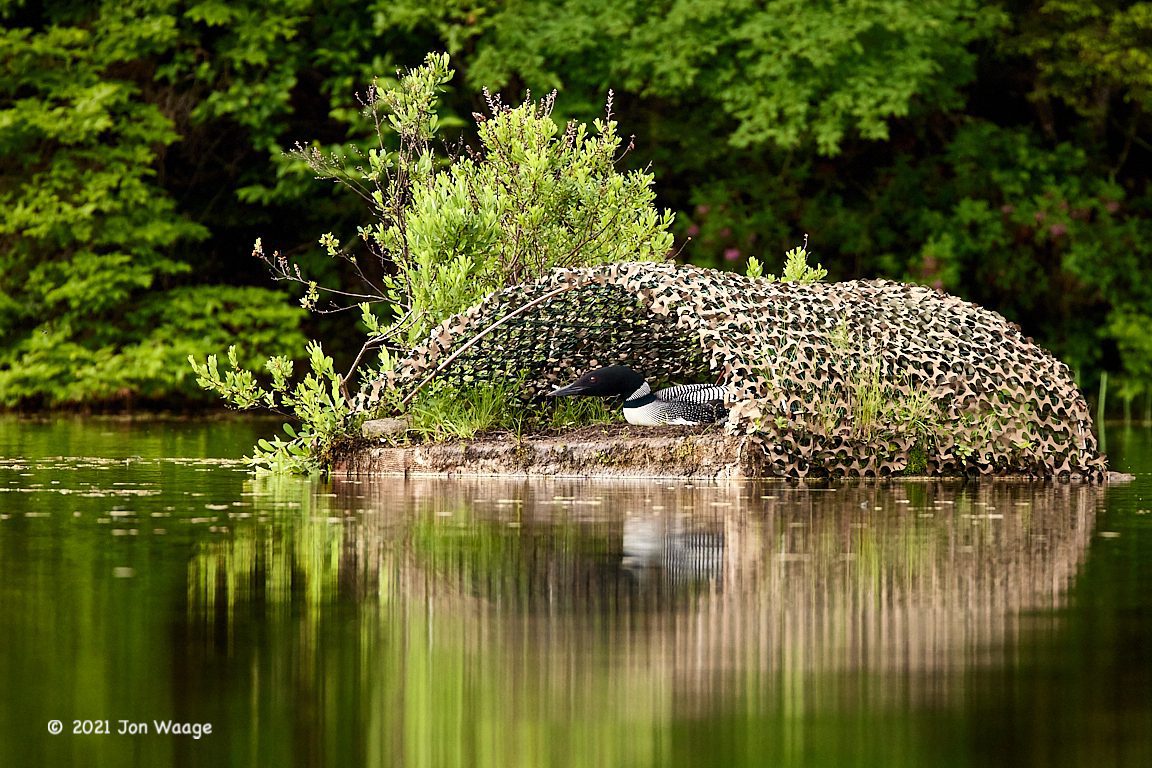 We had a close encounter with the male around sunset the other day. Lots of preening and bridling. Such a handsome fellow!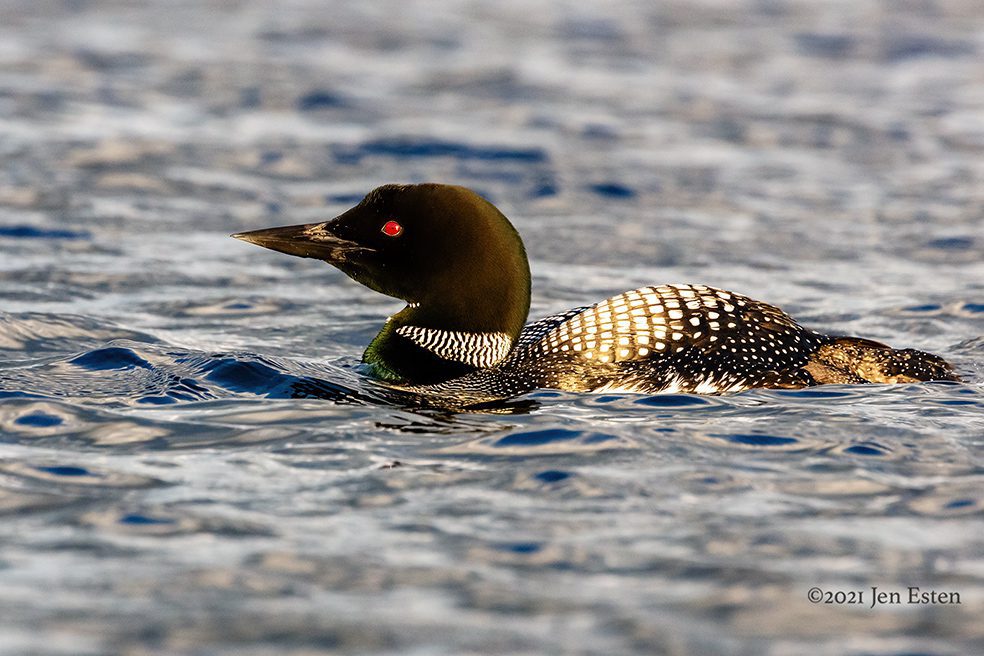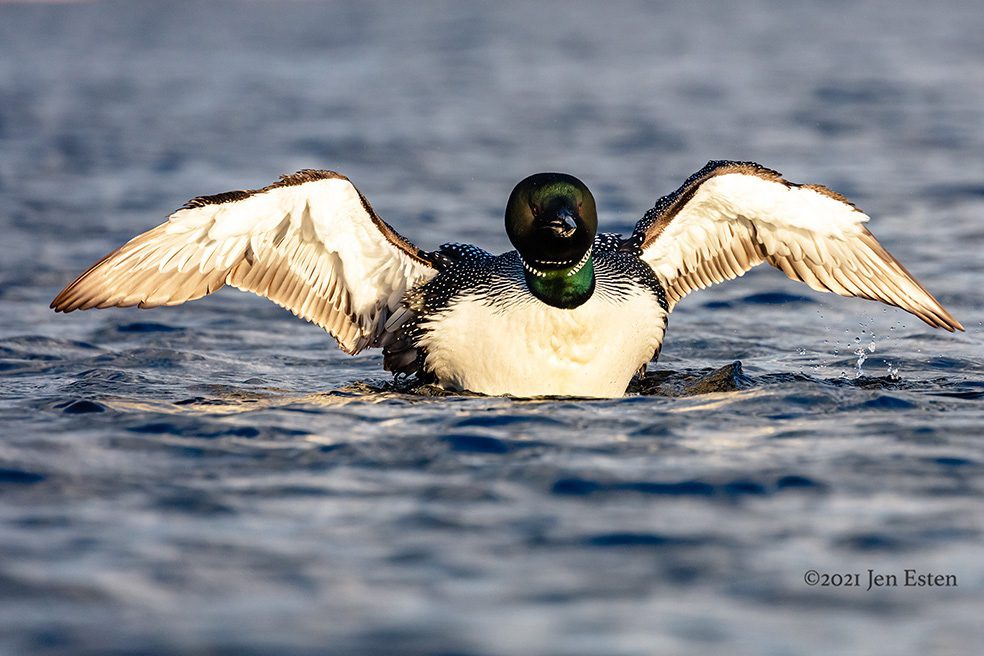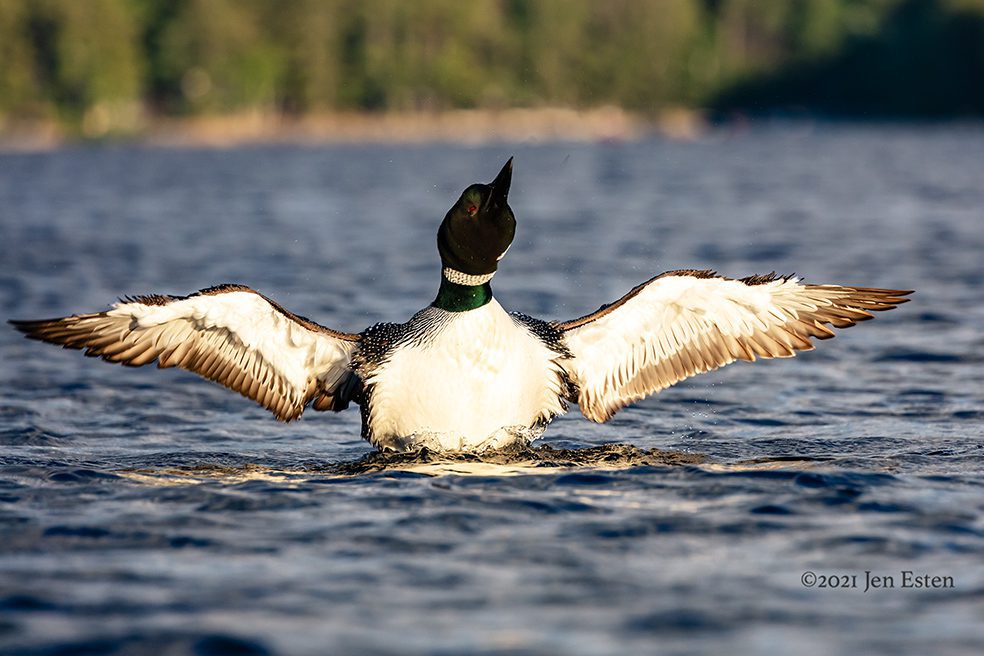 Loons are not the only ones competing for nest sites in Turtle Cove. Many North American birds use woodpecker holes or natural cavities in trees for nest sites. Three common ducks on Pleasant Lake are cavity nesters: Wood Ducks, Common Mergansers and Hooded Mergansers. Given the scarcity of nesting cavities, competition among these species can be intense.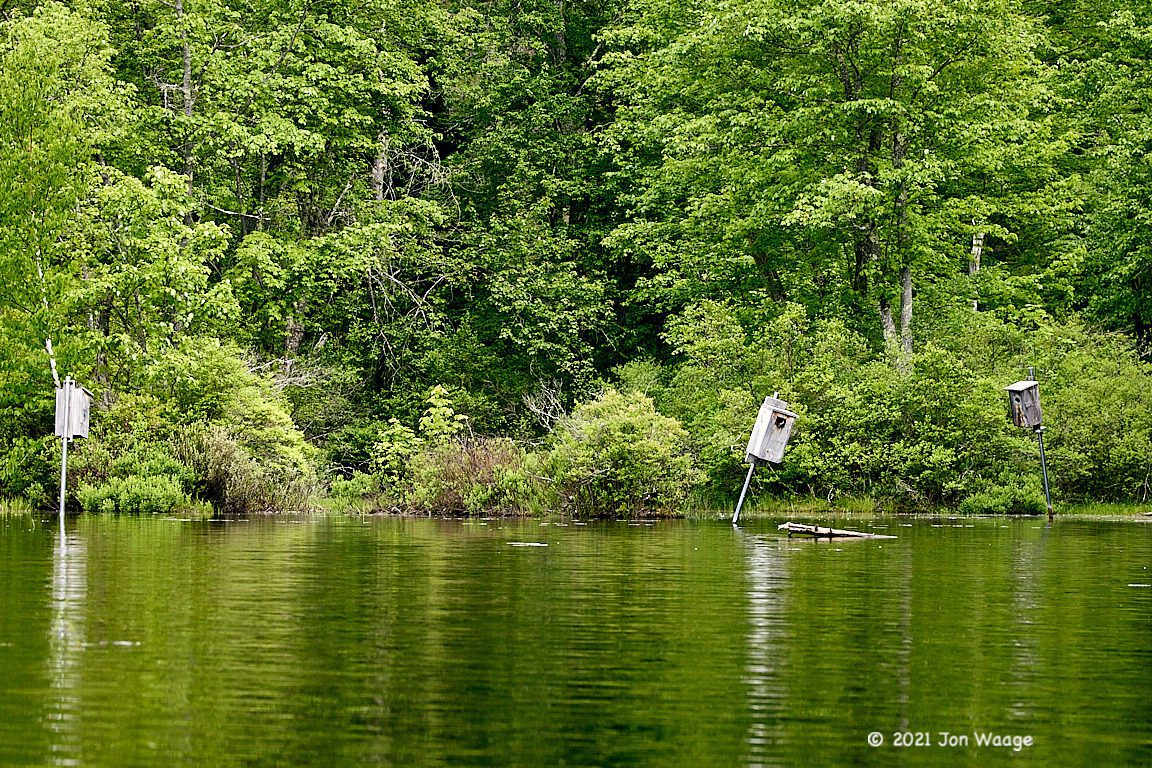 Three "wood duck" boxes in Turtle Cove provide artificial nesting cavities. In late May, two Mergansers, Common (below left) and Hooded (right), were trying to the same box. Unlike Loons, Merganser females find nesting sites and raise young on their own.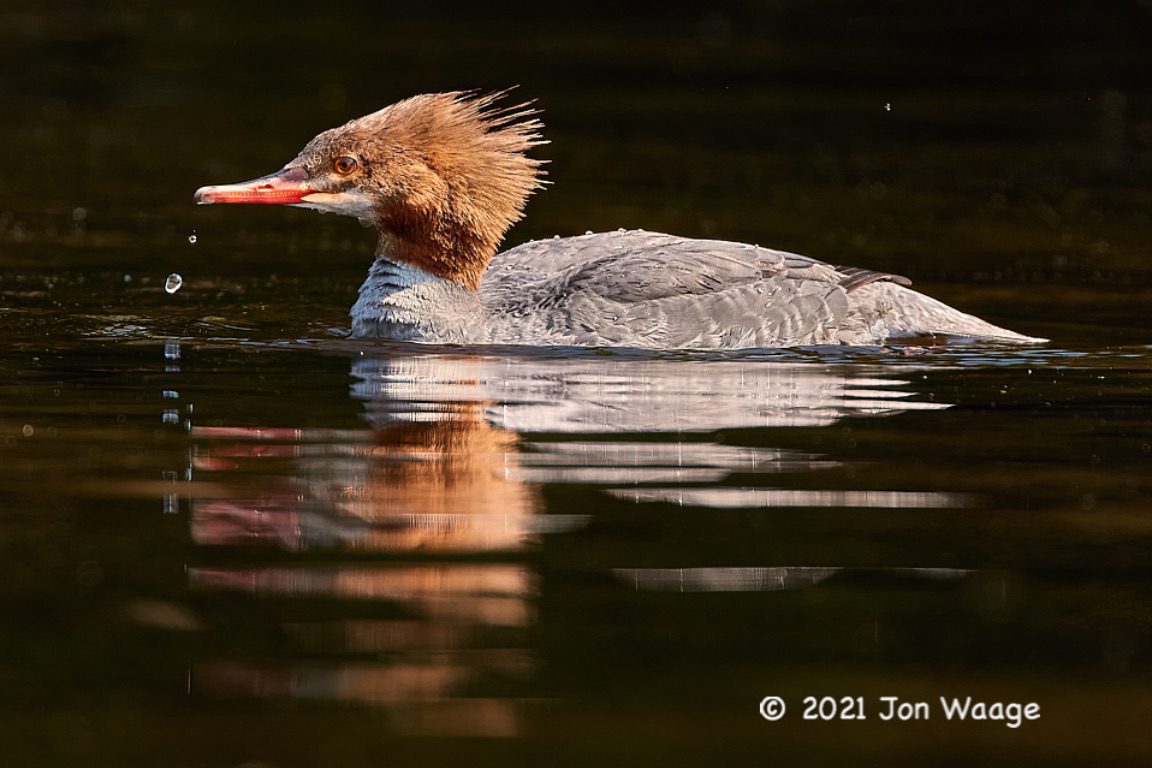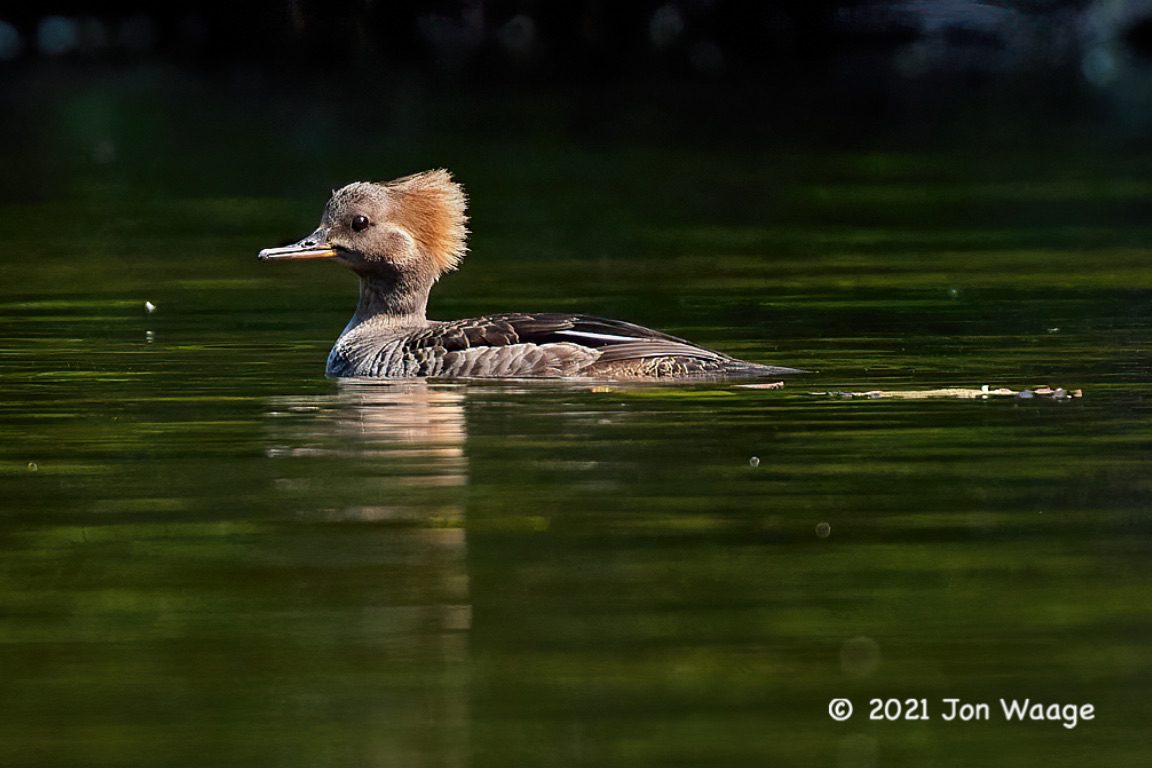 Hooded Mergansers are smaller and when one flew up to the nest box, she had no trouble getting in.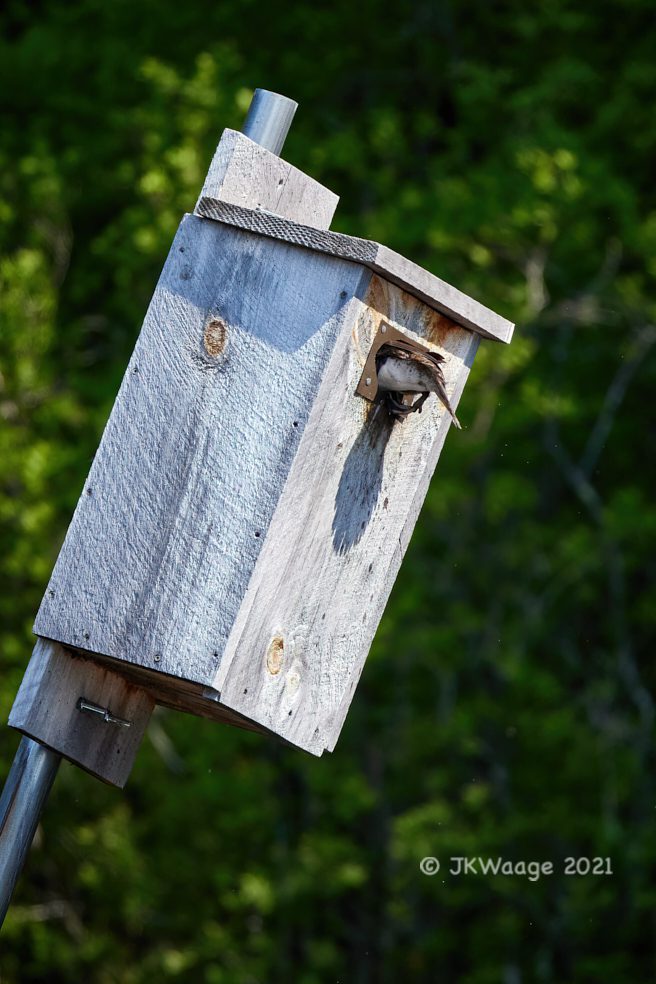 When the Common Merganser tried, she was unable to get a good hold. She also seems a bit big for the hole. The second time she tried, she just landed on top and looked in.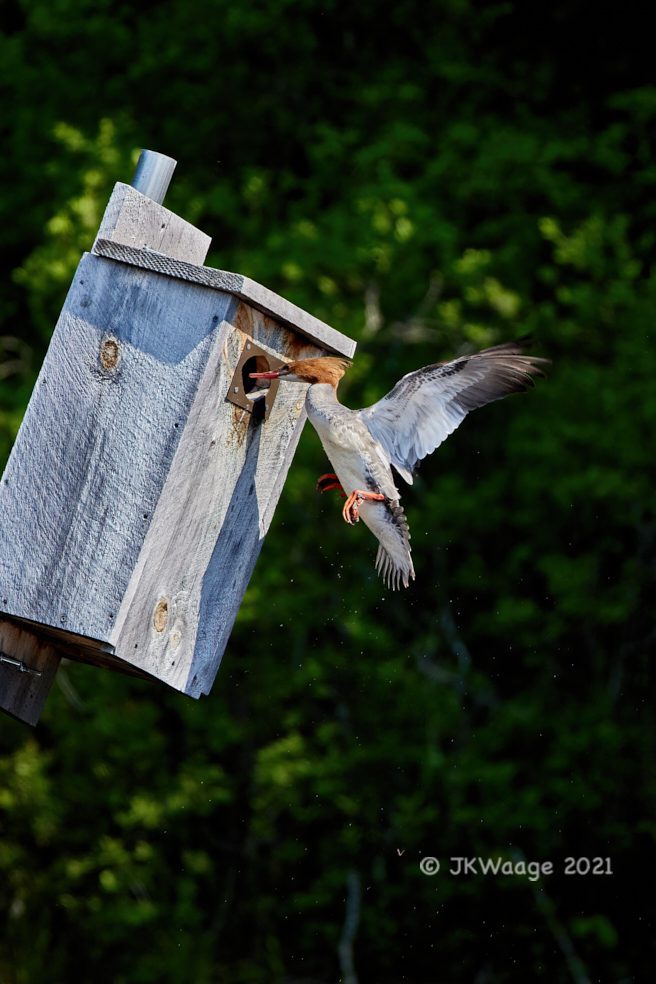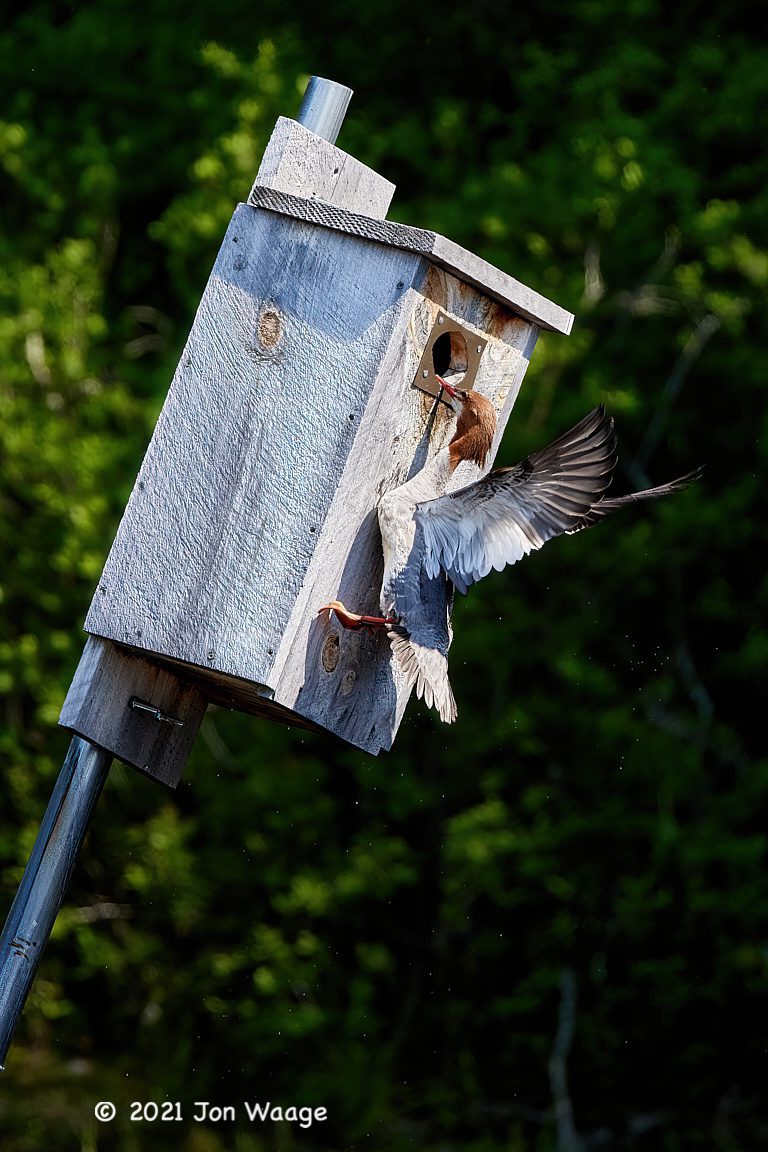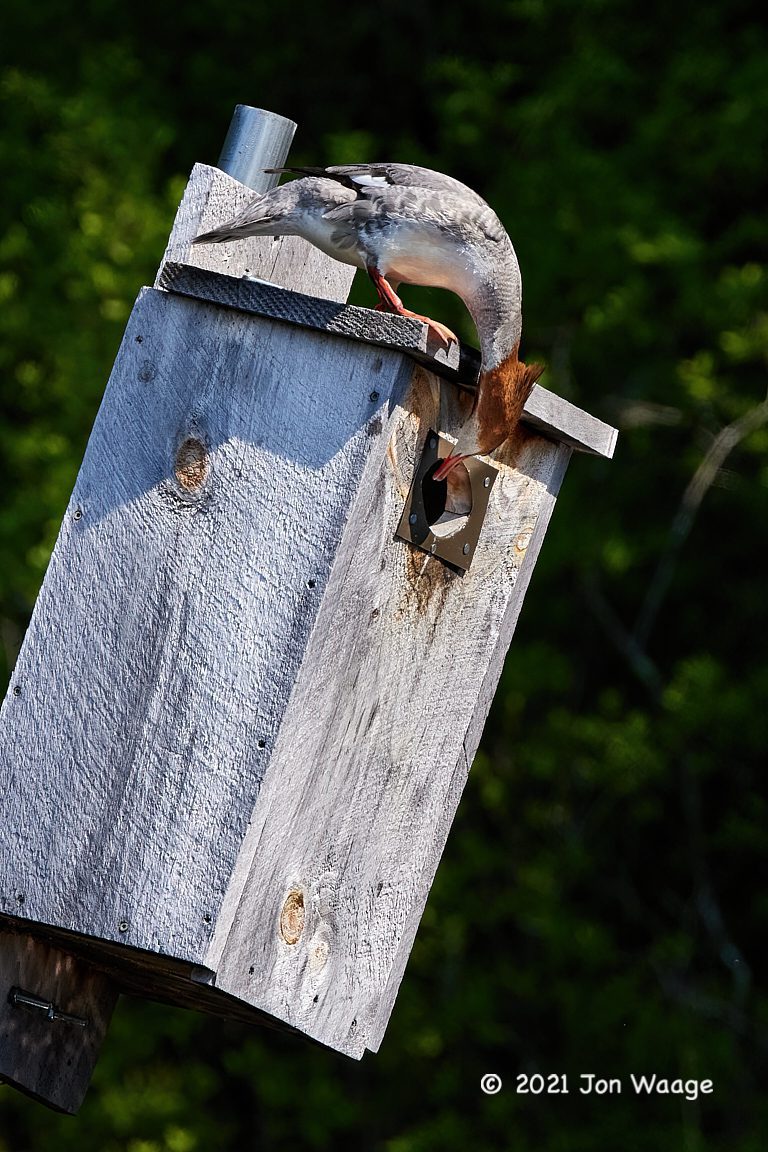 The Hooded Merganser female was not at all friendly toward her fellow Cove rival.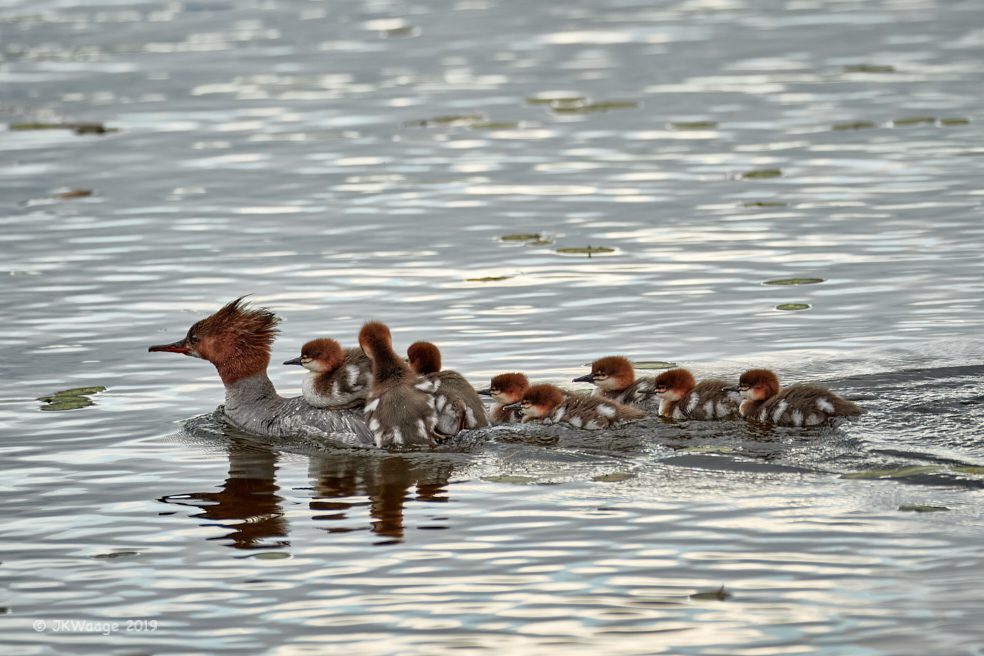 Most of you on the Lake have seen Mergansers with large numbers of chicks, like the 8 above. This is a normal clutch size. If you see 12 or more chicks with a female, most likely not all of them are her kids! All of these cavity nesting ducks will lay eggs in the nests of others if they cannot find a nest of their own.
Merganser chicks are a lot like baby chickens. With the mother nearby and perhaps showing them what to do, they are capable of feeding themselves soon after hatching. So caring for extra chicks is not impossible.
Despite being diving, fish eating ducks, Mergansers differ in several interesting ways from Loons. Unlike the single parent Mergansers, our Loon chicks will be fed from hatch to late October by both  parents – even though able to catch fish on their own after a month or two.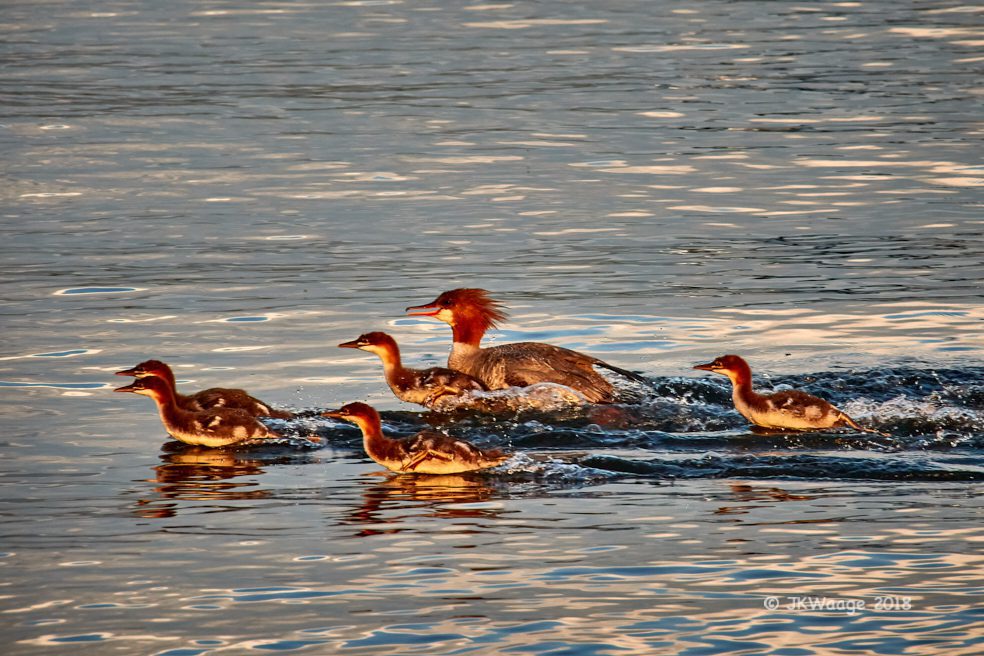 You may have seen the Merganser chicks race across the water surface near shore. They chase fish into shallow water and catch them with their long serrated beaks (below).
Like Loons, Mergansers feed mostly on fish and crayfish, but will also take aquatic insects and tadpoles. Below a young Hooded Merganser has found a crayfish.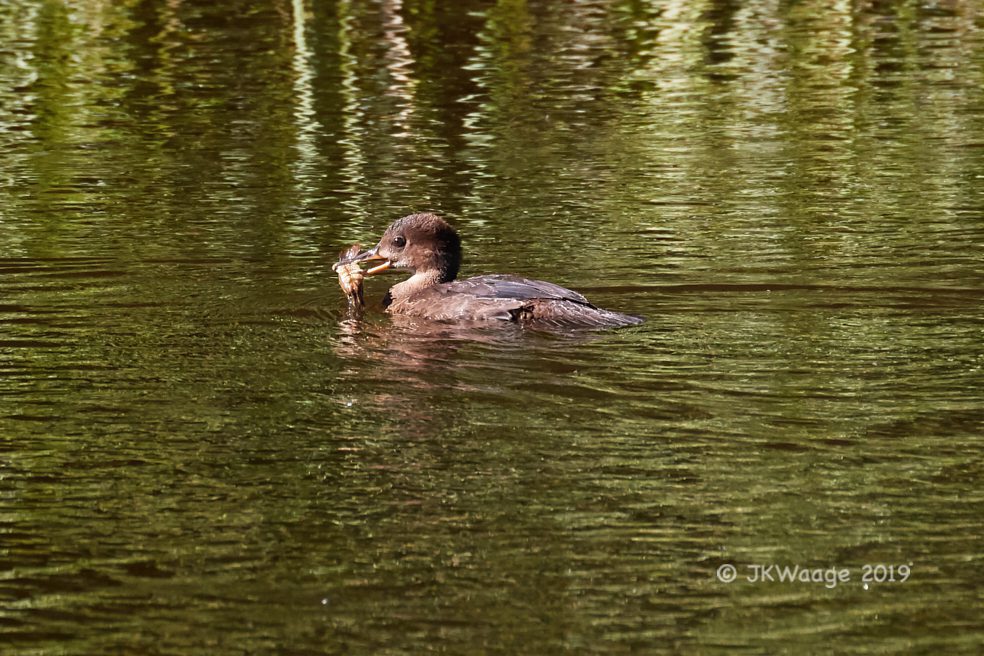 One thing you will never see a Loon do is stand on a rock. The set-back legs of Loons give them amazing speed and distance underwater at the cost of being unable to walk. Merganser legs are set much further forward on their bodies allowing them to stand and walk, but they can't dive as deep or swim as fast as Loons.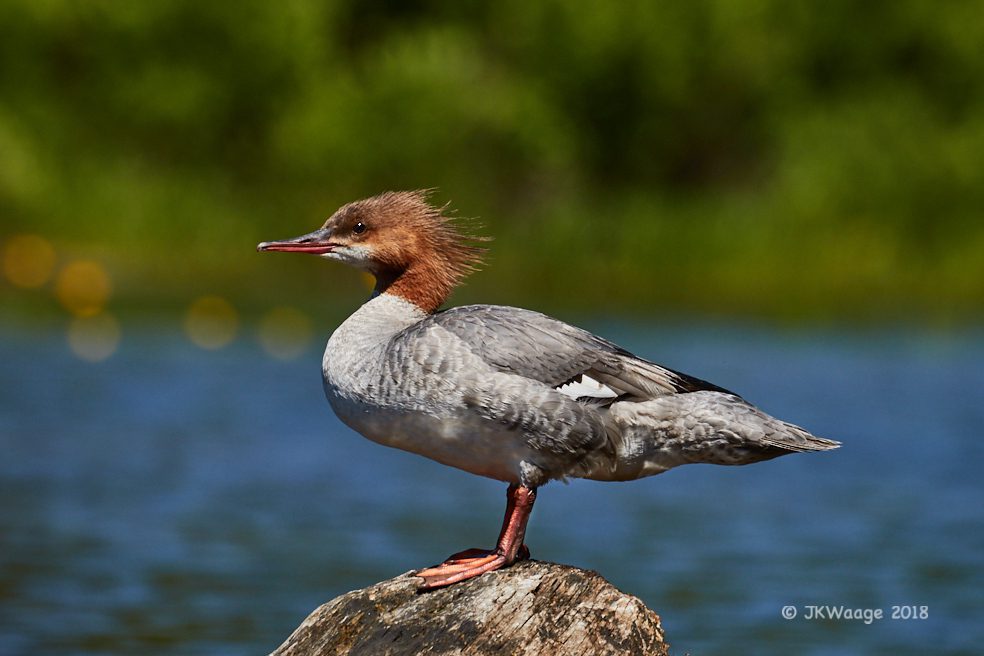 Loons and Mergansers: two variations on diving, fish eating birds that have converged on similar, yet distinct body plans from two very distant ancestors.
To be continued…  Jon and Jen